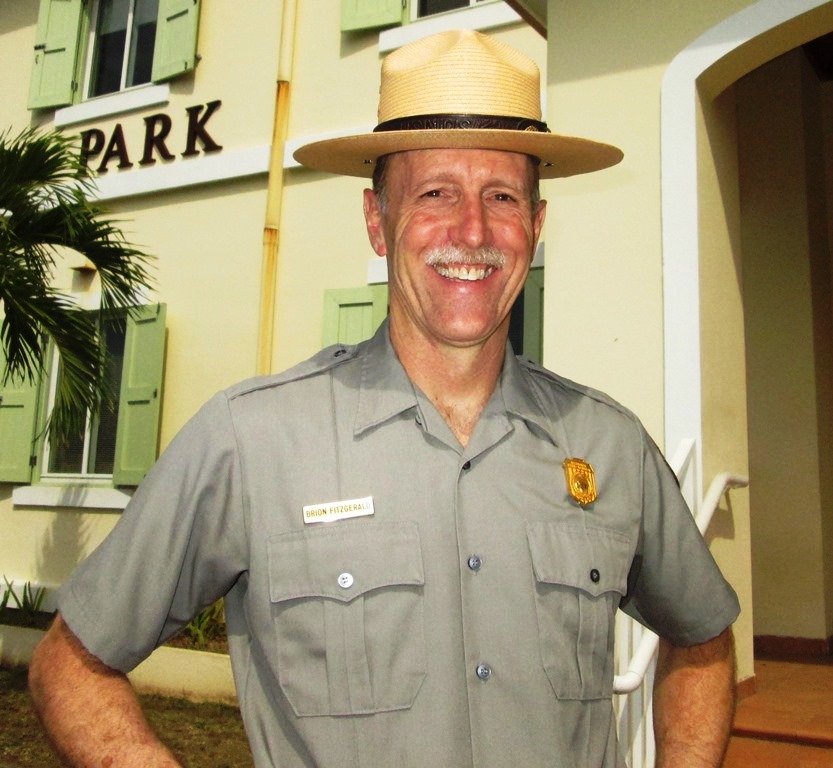 Like many St. John residents, the new V.I. National Park superintendent, Brion FitzGerald, first visited the island on vacation. He and his wife, Mary Robinson, came for their 25th wedding anniversary in 2006 when they made a day trip from St. Thomas. They returned in 2011 for another vacation.
FitzGerald, 56, was thinking hard about retirement himself when the superintendent's job opened up because the previous superintendent, Mark Hardgrove, had retired. FitzGerald said he jumped at the chance.
"This was the only place I considered applying for the job," he said.
Born in Winston-Salem, N.C., FitzGerald has spent his career with the National Park Service. He started as an intern at Great Smokey Mountains National Park before moving on to Joshua Tree National Park, Gulf Islands National Seashore, Saguaro National Park and Everglades National Park. FitzGerald was chief ranger at Assateague Island National Seashore for seven years before working 18 years at Gettysburg National Military Park.
At Gettysburg, he served as chief of interpretation, protection and museum services with oversight for protection and museum services at the nearby Eisenhower National Historic Site. He left Gettysburg as the deputy superintendent and chief ranger.
FitzGerald has a bachelor's degree in park management from East Carolina University. He's also holds the rank of commander in the U.S. Coast Guard Reserve and went to the Persian Gulf in 2004 and 2005. In 2010, he worked on the Deepwater Horizon oil spill response in Louisiana.
FitzGerald said he expects this job to be his last with the park service. He didn't know how long he'll spend on St. John but estimated he'd be in the post for four or five years.
"I've got other things I'd like to do with my life," he said, ticking off church mission work and Habitat for Humanity assignments as volunteer jobs he'd like to do.
And FitzGerald said he'd like to volunteer at other national parks so he can see more of the country than he already has.
He arrived on St. John on March 1, at a critical time in park operations. This park and the adjacent Virgin Islands Coral Reef National Monument are facing funding cuts due to the federal government sequester.
All national parks had their operational budgets slashed by 5 percent, which means a cut of $246,000 in the St. John park's annual budget and $22,500 for the monument's. FitzGerald said that money goes for things like salaries, supplies and materials. Additionally he said that project budgets, such as those that will fund repairs to the park's dock, also took a 5 percent hit.
FitzGerald is still getting his feet wet on the issues facing the park, but he spoke Thursday about the park's funding woes.
And while didn't have the figures for the park's annual budget on hand, FitzGerald said the park had already tightened its belt considerably and had 20 positions vacant. Recent departures have left vacancies in such critical posts as chief of resource management, a protection ranger, an interpretive ranger, a park guide and an information technology specialist.
With such staff shortages, FitzGerald said park employees are traditionally asked to do more with less but he intends to put people first.
"We're not going to balance the budget on the backs of the employees," he said.
FitzGerald said he's impressed with the park's staff, and noted that a lot of people were "working their butts off."
He said he doesn't expect any of the park's 50 plus employees will be furloughed as a result of the sequester. However, the Visitors Center may have to close for one or two days a week.
The relationship between the park and the St. John community is important, and FitzGerald said he wants the park's presence to benefit both the community and the park.
As for hurricanes, FitzGerald said his experience in Everglades taught him about evacuation, and he was part of a park service team that worked at Biscayne National Park after Hurricane Andrew devastated south Florida in 1992. He said he'll work to make sure employees secure the park on time so they can then go home and take care of their families.
FitzGerald said he is settling in and expects his wife to arrive mid-March. His 18-year-old daughter, Katie, is with him on St. John. His son, Brion, is 24 and lives in Boca Raton, Fla., and his 21-year-old son, Kevin, remains in the family home in Fairfield, Penn., near Gettysburg with FitzGerald's grandson, Wyatt, age 16 months.
"It's been very hectic," FitzGerald said of his arrival on St. John.