Cinematic history is about to be made on St. Thomas, in more than one sense of the word.
While the territory has served as the backdrop for more than one Hollywood movie – as well as for countless amateur videos – this time it's a professional, independent production and it's strictly local.
V.I. native Edward La Borde began filming an original, feature-length movie last week, and virtually all of the cast as well as the production crew are local. So is the setting. And so is the story.
"Timeless" is a drama and a romance, La Borde said. Set in both the colonial era and modern times, it traces the story of a man kidnapped in Ghana and brought as a slave to the Caribbean, the woman he loved, and the enduring strength of their passion.
The plot line is driven in large part by "the idea that hurricanes come from the souls of people who suffered on the Middle Passage," La Borde said.
Originally from St. Croix, La Borde spent his high school years in New York and then joined the Navy. After four years in the service, he attended the Academy of Arts University in San Francisco for a couple of years and left there to begin a career in film production. Family drew him back to the Virgin Islands, where he worked from 2003 to 2006 at the Tourism Department's Film Promotion Office before starting his own business.
Together with playwright David Edgecombe, he owns and runs Cutting Edge Entertainment, Inc., specializing in digital film and video production. Founded in 2008, Cutting Edge bought Grip Flicks, Inc., in 2011. Grip Flicks had been operating in the territory for more than 30 years as a production support company for projects filmed in the islands. Its credits include such well known movies as "Shawshank Redemption" and music videos for country star Kenny Chesney.
Sometimes working in tandem, sometimes separately, the two companies have produced a long list of music videos, public service announcements and television commercials in the last few years. La Borde said he's continuing to take on those types of jobs, but clearly right now the main thing on his mind is "Timeless."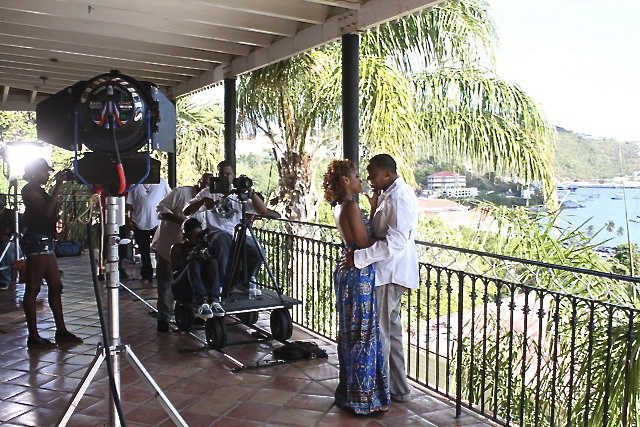 He started writing the script for the movie back in 2001, and said that for a while "I didn't really know where it was going." But he knew he wanted to create "an epic Virgin Islands film."
That's an epic on a shoestring budget. When he told stateside friends and business associates about the project, "of course, they all thought I was crazy."
La Borde does have a leg up on financing, since he has access to all the production equipment he is likely to need. He also has gotten commitments from several property owners to allow him to shoot scenes without paying a rental fee for the locale. Those include Pilgrim's Terrace, Haagensen House, the Legislature and at least one private residence.
"All of those things add lots of value," he said.
Meanwhile he is relying on what he calls "deferred contracts" for services from some crew and from local actors. The cast includes some names familiar to territory residents, but none with major credits outside the Virgin Islands: Brummell Germain, Kmisha Counts, Elaine Jacobs and Laurel Samuels. While the actors don't have household names, La Borde said they do have the talent.
He plans to wrap up shooting by July and then will try to shop the movie at international film festivals.