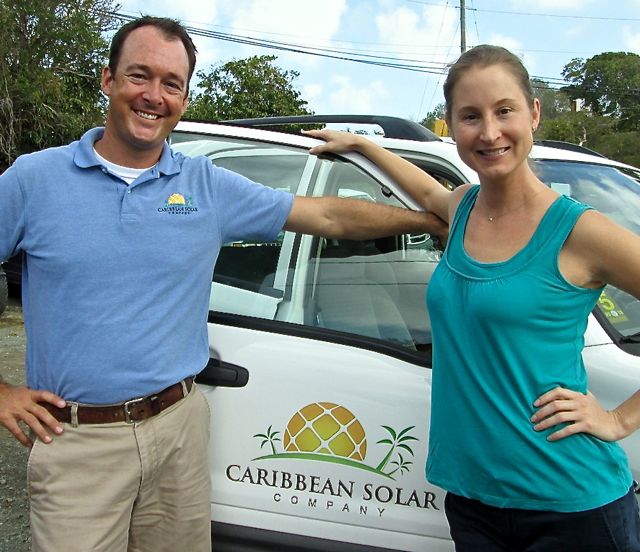 Caribbean Solar Co. has been in business for just less than a year, and now the St. John-based company is an authorized distributor for SolarWorld, the largest solar manufacturer in the United States.
That's good news for Caribbean Solar owners Kevin Schnell and Maya Matthews-Sterling, a husband and wife team providing one-stop solar services to customers across St. John. They're assisted by their two-person crew of Josh Bourg and a man who goes only by the name of Morale.
"We have a team of people working on each of our jobs. We do everything from start to finish," Schnell said.
The company specializes in residential, commercial and utility-scale photovoltaic installations, including those that feed directly into the utility grid. Schnell said they're built to withstand 150 mph winds that might be experienced on St. John during a hurricane.
The job starts with things such as evaluating whether a roof or ground installation makes more sense. And in one case, Schnell said, building a carport with a solar roof was the best choice. Caribbean Solar handles the permits, orders the solar parts and then completes the installation.
He said the process takes about six weeks from planning to the start of the installation.
Schnell acknowledged that those in the solar business a lot longer paved the way with the permits process needed for net metering. He said there don't seem to be any more issue with the Planning and Natural Resources Department and the V.I. Water and Power Authority permits and inspections that plagued the industry on St. John until recently.
"The whole process has become streamlined," Matthews-Sterling said.
Although Caribbean Solar only opened its doors in May 2012, Schnell and Matthews-Sterling have lots of ties to the island. Born in Cuernavaca, Mexico, she moved to St. John with her mother, Shannon Sterling, in 1983 and attended Guy Benjamin School. She moved around the states with her father, eventually graduating from high school in Asheville, N.C. That was followed by a bachelor's degree in international relations from Goucher College in Baltimore and a master's degree from Tulane University's School of Public Health.
She was back on St. John in 2000 when she met the New Lathrop, Mich.-born Schnell. He was visiting his uncle, St. John potter Donald Schnell. He went on to work for his uncle before moving into construction. In August 2005, the two moved to New Orleans just in time to get walloped by Hurricane Katrina. However, the rebuilding process enabled Schnell to hone his roofing skills.
In 2009, they moved to Austin, Texas, where Schnell started work with a roofing company that was developing a solar business, Ja-Mar Roofing and Solar owned by David Phillips. He was offered the job of managing the solar division, but fate intervened.
After getting married on Oct. 10, 2010, he and Matthews-Sterling were back on St. John in 2011 to visit family for their annual Thanksgiving customer appreciation party. His mother, stepfather and siblings had moved to St. John to open St. John Car Repair. They went back home to Austin but decided to make the move back.
"All the pieces came together," Matthews-Sterling said.
Both 34, they've settled in nicely, and in their spare time visit family, go to the beach and hike the hills. Schnell recently joined the Rotary Club of St. John and Matthews-Sterling is learning the ropes with St. John Rescue.
"But in my real free time I like to think about solar. I'm an entrepreneur at heart," Schnell said.
Those interested can learn more about Caribbean Solar online at www.facebook.com/caribbeansolarcompany, or by calling 1-340-643-6000.