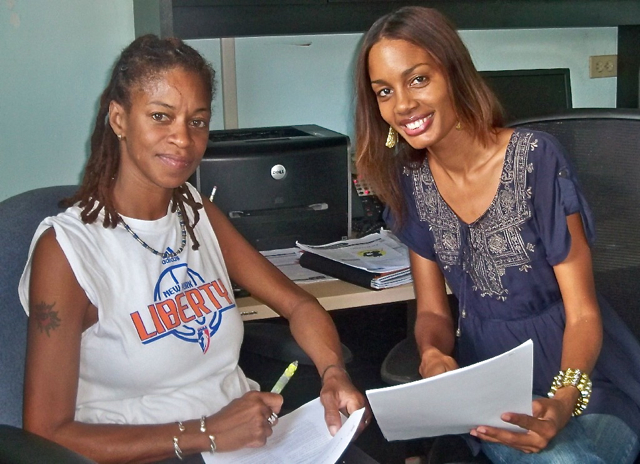 Local young people who are perceived as different or feel different because of sexual orientation and gender identity now have a safe place to turn, with people are committed to letting them know they are OK.
Liberty Place, founded by two Crucian women, was incorporated to create a safe space to promote diversity and positive self identity for lesbian, gay, bisexual or transgender young people.
Liberty Place co-founders Indira Liebert and Melba Mathurin, who both have a passion for advocacy, said they were really impacted by the murder of a local 16-year-old boy in January 2011,who was perceived as being different.
"Silence has consequences," Mathurin says. "We have to speak out and let it be known that we won't tolerate any hate. We are a voice for the voiceless. We need to talk about sexuality. The gay and lesbian population are largely an invisible part of our community."
They are currently working with legislators to pass legislation against hate crimes to end discrimination, harassment and abuse faced by marginalized groups in the community.
Mathurin says lesbian, gay, bisexual or transgender youth are more likely than non-gay peers to attempt suicide, run away from home, have academic problems, and struggle with substance abuse, low self-esteem and depression. And they are more likely to face verbal and physical harassment.
Liebert said she was popular when she was young, but was still harassed while attending Pearl B. Larsen Elementary School.
"Our passion keeps moving us forward," Mathurin says.
She said the two are talking to educators and counselors to get their message out and to have schools enforce anti-harassment policies. The women are doing surveys on bullying and accessing what the climate is like.
"We know bullying is happening," Mathurin says. "One of the main values of West Indians is respect. Everyone deserves respect even if they are different."
Liberty Place, opened in December 2012, offers support groups where folks can discuss or ask questions about their loved one's sexuality. Mathurin adds they let parents know their children are OK and can be successful and have everything they want.
"We are giving information to parents to advocate and be agents for change," Mathurin says.
Mathurin, Liebert and the women at Twin City Coffee House hosted a spoken word event last week where people read poetry, played music and shared thoughts at an open mike. Mathurin said they were very pleased with the turn out.
"We held hands and took a leap to become this face," Liebert says. "We're paving new ground with a program that supports gay and lesbian rights. This is big for the community."
"We envision a Virgin Islands that recognizes equality and is inclusive of diversity, regardless of one's race, ethnicity, gender identity, sexual orientation, or religion," Mathurin says.
Liberty Place is at Virgin Islands Community AIDS Resource and Education office at 43 Queen Cross Street in Christiansted, where Mathurin is a program director. Mathurin says she is working on getting grant funding.
Those interested can learn more about Liberty Place or make a donation by calling 1-340-692-9111, visiting its website at www.libertyplacestx.org or sending email to libertyplacestx@gmail.com.