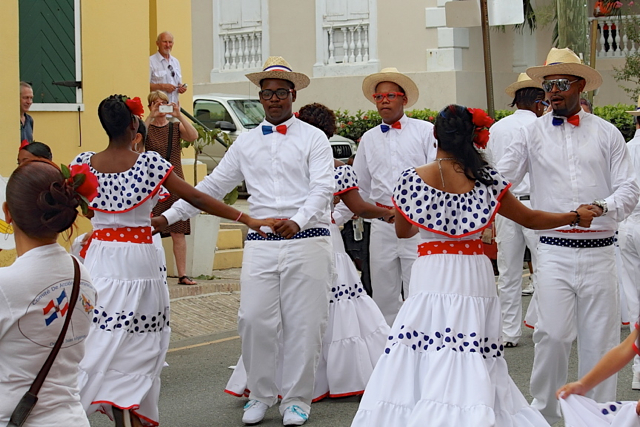 The flag of the Dominican Republic fluttered over Government House as the Fourth Annual Dominicanos Parade rumbled through the streets of Christiansted. The parade was followed by an evening of concerts at the David C. Canegata Recreational Center and Sports Complex in honor of Dominican Independence Day.
The parade was distinctly smaller than last year, but the crowd was just as enthusiastic. People began lining up along King and Hospital Street hours ahead of time, many carrying small Dominican flags or flying the colors on their T-shirts.
Just as prevalent, however, was the Virgin Island flag.
"People think it's a celebration for Santo Domingo. No Santo Domingo. This is a celebration for Cruzan Dominicanos," exclaimed Milagros Pena, a member of the Comite de Accion Dominicana.
Carlos Mato, another member of the committee, said they had worked hard to make the day enjoyable for everybody in the community.
"We are a family," he said. "We encourage the people to come together with us."
"When we decide to do something, we're going to make it good for everybody," he continued. "Because this is everybody's parade. This is everybody's independence day."
At the front of the parade, men carried the Dominican, Virgin Island, and United States flags in a sign of unity, while just behind them the St. Croix Educational Complex marching band was getting people up on their feet.
The drum line set down a steady beat, while three drum majors high-stepped down the middle of the road. The band blared out a few tunes, none of which were particularly Dominican in nature, but they were crowd pleasers nonetheless.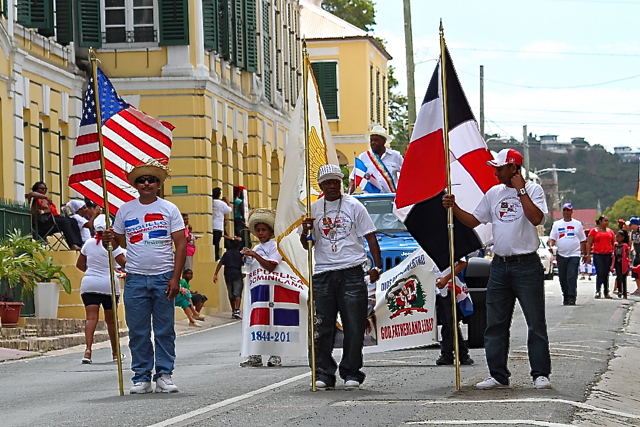 Bringing up the rear of the procession was the Ballet Folklorico Dominicano, a traditional dance troupe. The young dancers were decked out in red, white and blue attire – the men in bow ties and straw hats, the women in polka dot dresses – as they entertained the crowd with both old and new dances.
For a few minutes, the men swung their partners around them to the strains of meringue music, then, out of nowhere, the whole crowd began shuffling as the DJ cut to LMFAO's "Party Rock Anthem."
The parade wound slowly through town, eventually reaching the ballpark in mid afternoon. The crowd of revelers fell in behind the final float and marched to where a stage had been erected for the evening's concerts.
The crowd mingled around the pate and roti stands and the beer began to flow, and it was hard to tell who was Dominican and who wasn't.
One reveler, Xiomara Aquino, said that even though people from different islands have unique cultures and histories, one thing always brings them all together.
"One thing about Caribbean people, they love to party," she said. "They love to eat, they love to dance, and they love to party."