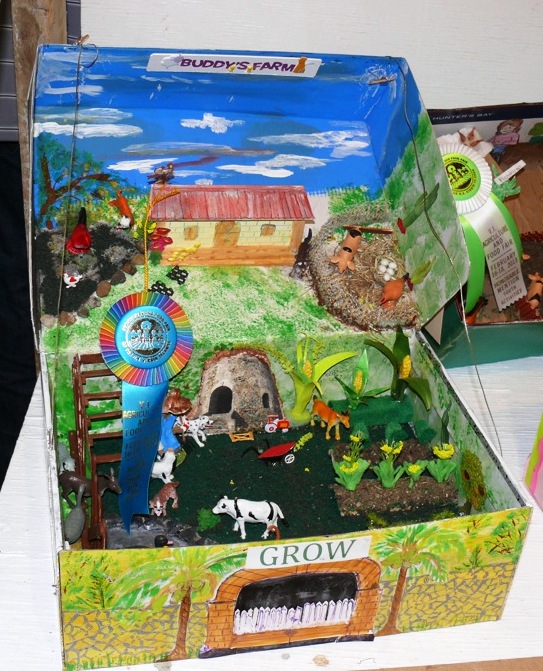 The soft, crisp voice of Eugene "Doc" Petersen crooning Caribbean folk classics like "Maria Maria" floated through the Agriculture Department Fairgrounds on Monday for the final day of Agrifest 2013. Cloudy skies and moments of drizzle did not slow down the crowds or the enthusiasm one iota, and at 3 p.m. there were still long lines waiting to get in.
Later on one stage, "Bronco Dem," a versatile Crucian ensemble featuring St. Croix saxophone legends Olaf "Bronco" Hendricks, belted out some mellow Crucian-infused rhythms, while on another stage Fyah Train and the Reggae Bubblers rocked to a different beat.
R&B Connection, Kewl Band, Barry Dias and D.J. Myron also all took turns onstage Monday.
If one image had to epitomize the fair, it would be a family of four or five, with at least one person eating an Armstrong's Ice Cream cone, strolling up and down the walkway past lines of food, art, and T-shirt and jewelry vendors.
In the livestock pavilion, parents and children strolled around the rabbits and fowl, fat pigs, goats, sheep and cows.
The artistic creations of school teams, scout troops and youth groups filled much of the animal pavilion. Students and youth groups decorated hay bales using agricultural and recycling themes.
This year Juanita Gardine Elementary School's hay bale won first place with an entry called "Vegetable Market." The students built a model of a barn and a vegetable market adorned with farm and agriculture-related news clippings. It also included a magazine article about President Barack Obama's recent second inauguration. All of this was atop a large round bale wrapped around with children's drawings of chicken, ducks, horses and other farm animals.
And in a twist on a popular competition called "Farm Animal Frenzy," young artists from St. Croix schools used old soda cans to create sculptures of farm animals.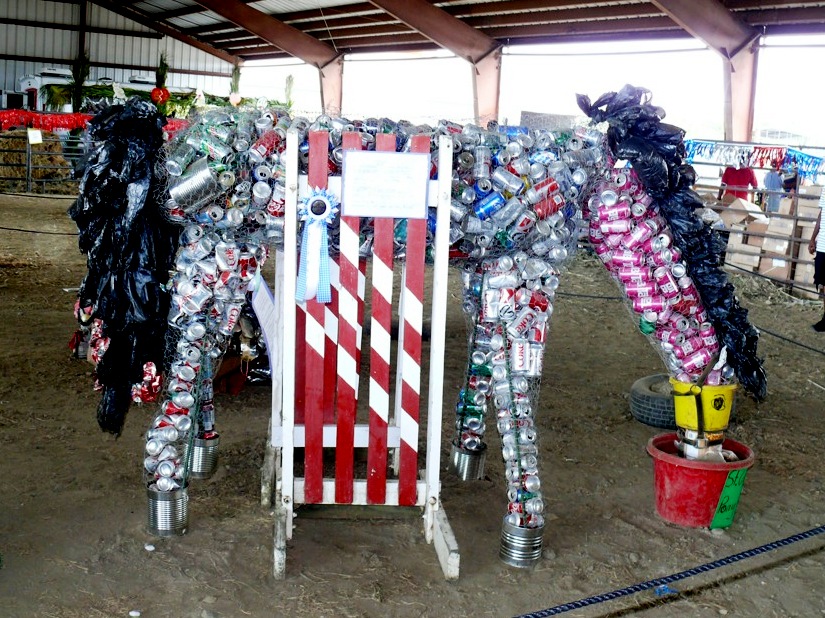 "They had to create a sculpture featuring the cans," said Sarah Dahl-Smith, director of youth activities for the fair. "The rest can be anything at all, but should be recycled materials," she said, adding that the goal was to encourage the children to be creative while also getting them to think about recycling and the environment.
First prize went to the St. Croix Pony Club, a group that focuses on youth horsemanship, with a horse made of aluminum cans within a chicken-wire frame. Someone drinking the hard-to-find old diet soda Tab contributed substantially to the Pony Club horse and to one or two other sculptures.
Other fanciful forms included a rooster done by two students at Lew Muckle School and a llama with a head made from an old bicycle seat made by a group of students in the Children, Youth and Families at Risk program.
"Many of the kids were here during the judging, so they were able to get good feedback," Dahl-Smith said.
The contests had cash prizes with the money going back into the winning group's program, she said.
Under the roof of the Vegetable Market, there was the annual shoebox diorama contest, in which schools created little tableaus about different aspects of agriculture. And dozens of schools, churches, nonprofit organizations and youth groups set up elaborate educational displays highlighting different aspects of agriculture and the environment.
First prize in the K-3 category was Jeron Goodwin of Pearl B. Larsen, who made a little farm in a box called "Buddy's Farm with a painting of an old windmill, farmhouse, plants, field, animals and all the things you expect on a farm.
Hilsanna Chooran, a fourth-grader at Eulalie Rivera, won in the 4-6 grade category with a school house in a box, complete with students, a teacher, little tiny desks and a blackboard with the lesson, "Eat healthy foods, grow healthy," written on it in chalk.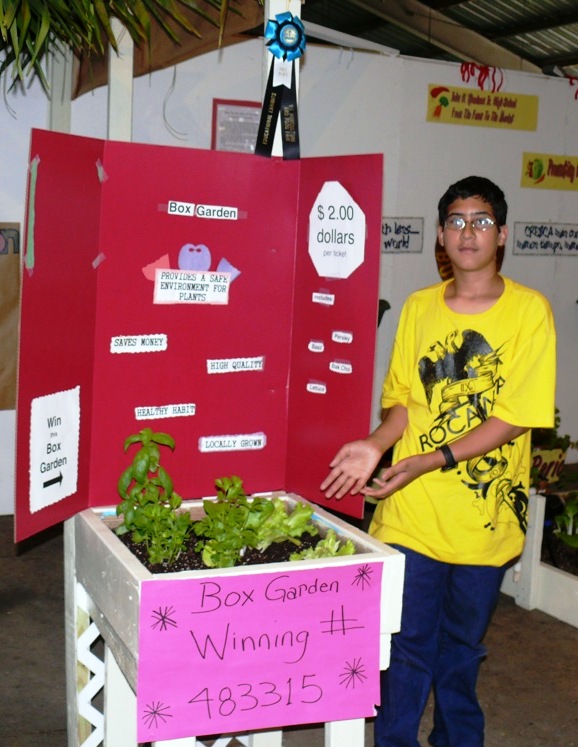 Woodson Jr. High School won in its age group for educational exhibits with custom-made box gardens. Students built 2 foot-by-2 foot square box gardens from 2-by-8 boards and grew basil, bok choy, lettuce and other greens to stock them, explained eighth-grader Heakey Ramos.
The boxes were a project of science teacher Roberto James' class. Each student got a garden to take home and they sell them to raise money to plant more seedlings and buy materials to keep the program going, James said. They raffled one box off, stocked with herbs and ready to go, during the fair and are hoping the winner will come pick it up, he said. The winner, who has ticket no. 483315, can pick up his or her garden at Woodson, James said.
Eulalie Rivera won in the elementary school division, with a spa stocked with homemade products made from sorrel, soursop leaves and other local ingredients.
"They tested all their products first and I discovered during judging they were very, very knowledgeable about each product," Dahl-Smith said. Clinching the spa treatment was a soothing foot bath with hot water infused with soursop leaves.
Iqra Academy won first place in the K-12 division. "They always do a wonderful job," Dahl-Smith said, pointing out that live potted plants nestled among green crepe paper flora spell out "Grow, Eat, Live." On one wall, a plate divided into sections had images devoted to different world cuisines, from French to sushi to Middle Eastern food. Dominating the center were two enormous and beautiful sculptures of mushrooms.
The overall winner among educational exhibits was the St. Croix Pre-College Research Academy. The academy has students from both the St. Croix Central High and Educational Complex who meet on weekends for extra study.
Karen Dascent and America Estepan, both 16-year-olds at Complex, manned the booth Monday, explaining their project.
"We researched environmental problems the Virgin Islands is facing and tried to come up with proposals to help address them," said Estepan. They created detailed posters outlining research and proposals affecting five topics, she said.
Different groups of students looked at sea turtle telemetry, lionfish eradication, handling rum distillery waste and the hermit crab migration on St. John. Dascent and Estepan worked on turtle telemetry.
"We looked at how to track hatchlings using GPS," Estepan said. They researched existing computer chips and equipment and worked on ideas for getting them to work in tags that could attach to hatchlings. Existing tags only work with larger animals, so less is known about where hatchlings go and what they do, she said.
The fair is hosted annually by the University of the Virgin Islands' Cooperative Extension Service, along with the V.I. Departments of Agriculture, Tourism and Health.
More information, contest details and entertainment schedules are available from the V.I. Agrifest website – www.viagrifest.org.
Below is a partial list of the other contest winners at Agrifest 2013:
Poster Contest
Elementary Division:
1.Michael Louis 4th grade Evelyn M. Williams School
2.Rahkiyah Felix 5th grade Lew Muckle School
3.Nina D'Eramo 5th grade St. Croix Country Day School
Honorable Mention –
— Makayla Todman 4th grade Lew Muckle School
— Shomori Alexander 4th grade Eulalie R. Rivera School
Middle School Division:
1.Nedisha Oscar 8th grade Arthur A. Richards Jr. High School
2.Mark Armstrong 7th grade Arthur A. Richards Jr. High School
3.Richardia Wells 8th grade Arthur A. Richards Jr. High School
High School Division:
1.Priscilla Laurent 12th grade The Good Hope School
2.Rheyanna Lewis 12th grade The Good Hope School
3.Willow Nelson 12th grade The Good Hope School
Special Recognition
— Sean Paul 1st grade The Good Hope School
Poetry
Elementary Division:
1.Dominique Elizee 5th grade The Good Hope School
2.Chmeerah Felix 5th grade Lew Muckle School
3.Indeyah Todman 5th grade Lew Muckle School
Honorable Mention –
— Shaliyah Beras 5th grade Juanita Gardine School
— Zachary Bozzo 5th grade The Good Hope School
Middle School Division:
1.XiaXiang Washington 8th grade St. Patrick's School/4-H
2.DeVanté Christopher 7th grade Manor School
3.Kaleem Santos 7th grade Manor School
High School Division:
1.Amir Rashwan 10th grade Manor School
2.Cherelle Lee 11th grade The Good Hope School
3.Kijon Washington-Moore 12th grade St. Joseph's High School
Essay Contest
Elementary Division:
1.Thai-Lee Missick 5th grade Lew Muckle School
2.Nicole Betancourt 5th grade Lew Muckle School
Middle School Division:
1.Kianna Watson 9th grade St. Croix Educational Complex
2.Sevon Washington 7th grade St. Patrick's School/4-H
3.XiaXiang Washington 8th grade St. Patrick's School/4-H
High School Division:
1.Kijon Washington-Moore 12th grade St. Joseph's High School/4-H
2.Kendry Regales 10th grade Manor School
3.Amir Rashwan 10th grade Manor School
4.Tae'ja Valmont 10th grade Manor School