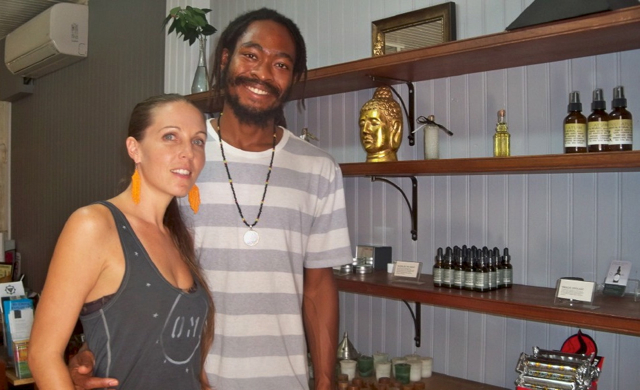 Renuatum Spa, located in historic Christiansted, is the spot to renew, rejuvenate and relax. Husband and wife Bale Kaza Amlak and Carlisle Kaza Amlak, owners of Renuatum offer holistic health care with locally-made, organic skin care products; energy healing, wellness therapy, massage and more.
"We work with people to create a sustainable state of balance for optimal health," Carlisle says. "We do this through wellness therapy and energy healing. Our programs are individualized for each client. We identify goals for physical, spiritual and emotional health."
Carlisle says the driving force behind Renuatum, named for an Egyptian alchemist, was to offer all-natural, safe-alternative body and health care products. The spa opened in 2008 and was originally in Five Corners.
Carlisle is a herbologist, certified at East West School of Herbology; and she also attended the University of Natural Medicine in Santa Fe New Mexico. Bale says he learned his craft from his mother and through experience. He grew up in the rain forest near what used to be called Creque Dam Farm, now the Ridge to Reef Sustainable Farm. He spent his time there studying plants and the academics of sustainable farming and forestry.
Bale says the products they have created are 100-percent natural and made with organic materials. Most of the materials he uses are harvested locally from the wild, he says.
Bale has created a multi-purpose noni oil and rub for massages and skin care made with local noni fruit. Queen of the Night avocado, jasmine, hibiscus and sea salt exfoliant and the rose hips and collagen anti-aging toner are popular products created at Renuatum. He also has made a cherry cough syrup and a natural bug spray.
Renuatum Spa and products have had some national exposure in recent months.
Renuatum products were in gift bags at a party for the stars in the 2012 Oscars. In a weekly recap in Ebony.com, Janell Hickman, associate beauty and grooming editor at Ebony, said during her annual vacation on St. Croix she went to Renuatum for chakra balancing. A picture of Renuatum Noni Oil was also featured on Ebony.com.
Some of the products Bale created are used in the facial treatments and the 12 different types of massage treatments done by local certified therapists. Carlisle says the most poplar treatment is the bamboo massage and noni leaf body wrap.
"The products sales are growing so much and so fast it's hard to keep up with the demand,"Bale says in a soft soothing tone of voice.
Carlisle, a certified Ayurvedic practitioner trained at California College of Ayurveda, gives ayurvedic and wellness therapy. Carlisle offers a free private introductory session with individuals to talk about issues and create a wellness program.
Ayurveda is a holistic science of health, focused on maintaining a physically and emotionally-balanced state. Ayurveda began around 5,000 to 6,000 years ago when Indian monks were looking for new ways to be healthy. Over thousands of years of observations they gathered their conclusions and advice and preserved it for future generations. This collection of knowledge came to be known as the "science or knowledge of life" – Ayurveda.
Ayurveda focuses on providing specific advice and guidance on maintaining physical and emotional health. In Ayurveda, every individual is unique and there is no diet or lifestyle routine that works for everyone. Food and lifestyle routines are considered the most important medicine. If you go to an ayurvedic practitioner with a complaint, you are more likely to leave with a recipe than with a prescription for pills.
"It's very rewarding to me to make people feel good and happy," Carlisle says.
Besides their products, they also carry Eminence Skin Care products and Dr. Bronners pure castile soap. There is a new line of yoga items made from bamboo now in stock.
Renuatum is open from 10 a.m. to 5 p.m. Monday through Saturday. Yoga classes, taught by Carlise and two other instructors, are also offered Monday through Saturday.
The spa is at 1112 King Street, directly across the street from Government House in the Kalima Center. Carlisle does out-calls and the massage therapists will do beach massages. More information on products,wellness services and workshops is available by calling 340-718-2440.