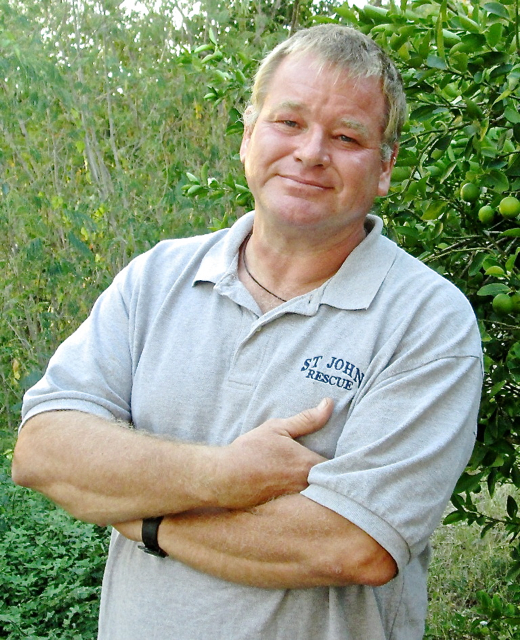 St. John Rescue's Coral Bay captain, Mark Maunder, was in Island Blues bar and restaurant when he first saw St. John Rescue in action. An "older gentleman had an episode," he recalled, and people began arriving with medical bags.
"They were order amongst the chaos," he said.
Maunder, 46, was hooked, and four years ago he joined the all-volunteer organization that serves as back up to the island emergency medical response.
He still has the same regard for the people who are now his colleagues.
"The people are very aware and very motivated. They give freely of their time and energy," Maunder said.
He holds first responder status, which means he's qualified to give basic medical care at the scene. Maunder carries medical equipment in his car so if someone needs help, he's ready to go.
A Coral Bay resident, he said St. John Rescue has an ambulance stationed in Coral Bay next to the fire station so if someone needs transporting the responders can avoid the wait for an ambulance to arrive from Cruz Bay.
Maunder is delighted that St. John Rescue finally has its own headquarters, located in a Centerline Road building in Pastory.
And he's equally excited that the organization has a $60,000 oxygen generator on the way. Bought with money raised by St. John Rescue and the Rotary Club of St. John, the oxygen generator will allow St. John Rescue to fill its own oxygen bottles as well as those belonging to Fire Services, Emergency Medical Services and anyone who needs their oxygen bottle topped up. Previously, someone had to make a trip to St. Thomas for refills.
St. John Rescue responded to 124 calls in 2012. Maunder said about one-third of them were in the Coral Bay area.
He said some of the calls involved tourists who are drunk and dehydrated. They think drinking alcohol will keep them hydrated in the island's hot climate, he said, but that's not the case. Omn the contrary, alcohol is a diuertic, and will dehydrate the drinker, leaving him in medical trouble.
Like many residents, Maunder sailed into St. John. In his case, it was 10 years ago aboard a 36-foot catamaran named Manatee. Born in High Wycombe, England, he and his then-wife left to sail here and there, eventually ending up in Coral Bay. He said what he found was exactly opposite of what he thought an "American Caribbean" island would be.
"It was warm and welcoming and friendly, and still is," he said.
Maunder was working as senior laboratory technician in charge of destructive testing for Great Britain's Timber Research and Development Association, a trade organization that does work in support of the timber industry. In Maunder's job, he worked on determining the properties of wood used in items like floors, automobiles, hotel rooms, or anywhere fire was likely to strike.
A chance conversation at a London dinner party led to a change in his life. He said that there was a lull in the conversation, and someone went around the room asking people what they thought they'd be doing in 10 years. While most responded that they'd be somewhere up in their career chain, Maunder had a different answer.
"I said that in 10 years' time, I'd be on a boat in the Caribbean," he said.
He made that dream come true, and he said he expects to be on St. John in another 10 years' time.
When he's not volunteering with St. John Rescue, he said he helps out friends with their projects, contributes time to Coral Bay Community Council's projects, works on charity events like the upcoming Coral Bay Yacht Club flotilla, goes diving, and enjoys life.
In 20 years?
"I'd like to be sitting on a great big pile of knowledge," he said.