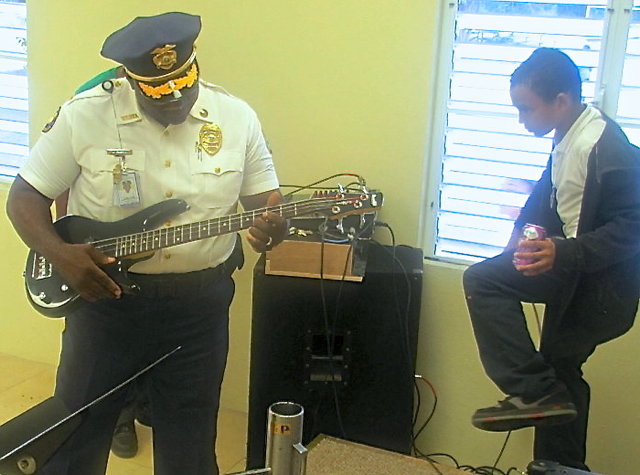 St. Croix acting Chief of Police James Parris was was impressed by the accomplishments of the youth attending the Police Athletic League center in Frederiksted during a recent visit, and lauded the continuing commitment of the instructor, retired Police Corporal Reinhold "Rookie" Jackson.
"This is the place they want to be," Jackson said of the approximately 30 students that come to the center after school. "I pick them up after school and they come here and learn skills, but they have chores to do as soon as they arrive."
Chief Parris arrived at the center as the first wave of students, mostly boys and a few girls, began arriving. The youngsters, ages 8 – 15, greeted the officers with "Good afternoon" and "excuse me," inquiring about their chores for the day.
"Rookie," as Jackson is affectionately called by everyone, doled out chores from raking leaves to picking up trash. Chief Parris smiled appreciatively as the children eagerly went about their assigned task.
Parris was shown the small engine and bicycle repair shop as Jackson explained their next project was to build a dune buggy. In the crafts room, Jackson showed off the carnival costumes that were made there for the Simply Sophisticated Fun Troupe, which won first place in their category in the 2013 Crucian Christmas Festival parade. In the music room, the instruments were arranged on the stage and Parris went straight to the bass guitar, an instrument he used to play.
"I still got it" he said after strumming the strings a while.
The youths then showed the chief their wood work. Large blocks of mahogany have been sliced and made into such items as tables and scroll work. The boys showed the symbols they had crafted, representing peace, wisdom and understanding.
"We are going to make these into smaller pieces that can be worn as pendants. The fixation young people have on gold jewelry is causing problems, we want to promote more conscious jewelry," Jackson said.
The PAL center in Frederiksted is a year-round activity, and the enrollment usually goes up to more than 150 youth in the summer time. In Christiansted, PAL is in Western Suburb at the Burning Bush facility. Participants have an after-school homework assistance and tutoring program. PAL centers are also active in the St. Thomas/St. John district.
More information on PAL can be obtained by calling the Crime Prevention Bureau at 1-340-776-1525 on St. Thomas/St. John and 1-340-773-6393 on St. Croix.