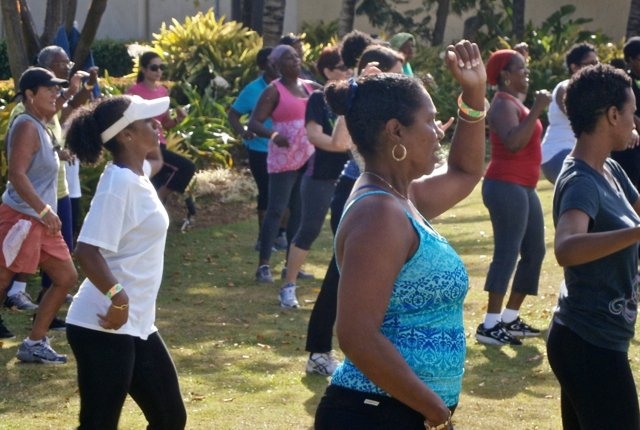 More than 90 fans of dance and exercise joined forces Saturday morning at Yacht Haven Grande to raise funds for educational outreach and violence awareness.
The participants joined together in a three-hour event billed as a "Zumbathon," combining their dedication to exercise with a sense of community spirit.
Hosted by the Family Resource Center, dancers ranged in age from six to 60 as the Virgin Islands Zumba Group led their "students for the day" in a combination of exercise steps choreographed to powerful Latin and Soco rhythms.
Zumba is a popular fitness program that combines Latin music and easy-to-follow dance moves alternating between fast and slow rhythms and resistance training.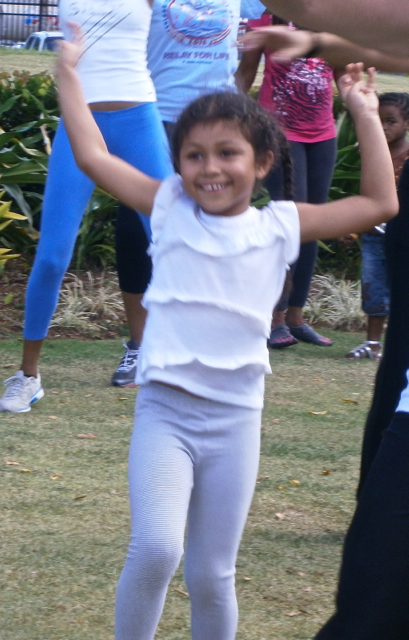 "I love to dance, I need the exercise, and it was all for a great cause," said first-time Zumba dancer Daphne Harley. The morning program consisted of two hours of dancing and one hour of yoga instruction.
The event was organized by Family Resource Director Vivian St. Juste.
"We are very happy with the turnout as dancers come and go throughout the morning," said St. Juste. "This event, just like all of our Resource Center events, are about our community coming together to support each other."
Center volunteers provided counseling information and program brochures at the check-in table, while additional volunteers raised money through the sale of raffle tickets for a variety of prizes donated by the local business community. The raffle prize collections were spearheaded by volunteer and Zumba dancer Jane Higgins.
The Family Resource Center is a nonprofit agency providing emergency shelter for victims of spousal and child abuse and provides counseling programs and services on a wide variety of family oriented topics.