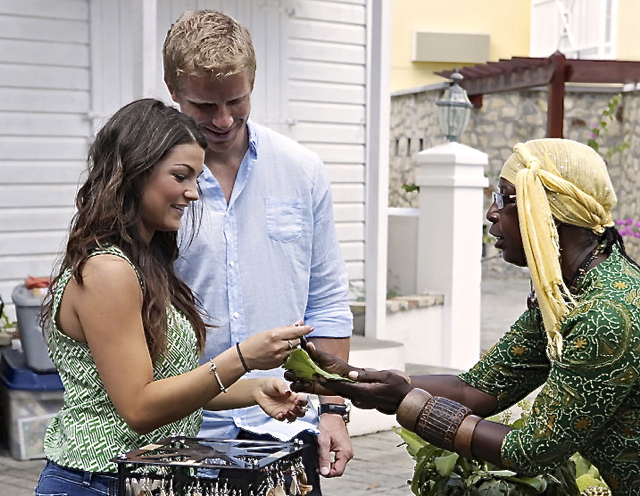 St. Croix stars Monday when a two-hour episode of the ABC romance reality series "The Bachelor" airs nationally. It will broadcast locally at 9 p.m. on ABC Channel 8.
The episode was filmed entirely on St. Croix, and, according to a Tourism Department press release, the episode positions St. Croix and the Virgin Islands as the place for a romantic escape for U.S. mainlanders.
"The impact to the destination is tremendous when you combine the national television exposure for the destination with the direct economic benefits to our community through jobs and valuable work experience," Tourism Commissioner Nicholson Doty said in the release.
In Monday's episode, bachelor Sean Lowe will continue his quest for love on St. Croix with the bachelorettes on a special group date and three one-on-one dates. It also features Lowe getting a one-on-one date in downtown Christiansted with bachelorette "bad girl" Tierra Herron.
Episode highlights include their arrival by seaplane onto a private beach, their immersion in a traditional Festival parade of masqueraders and mocko jumbies in historic Christiansted, witnessing a romantic sunrise at Point Udall, and dining on local cuisine by moonlight surrounded by the centuries-old sugar mill ruins.
Cast and crew stayed at The Buccaneer Hotel, which will be featured throughout.
At least 7.8 million viewers are expected to watch. As potential travelers, they'll be introduced to the beauty, romance and diversity of experiences available in St. Croix, according to the Tourism Department.
In addition to the show's estimated media value of $80 million, the production employed more than 40 local workers and services. It generated more than $160,000 in on-island revenue.
The Tourism Department worked closely with ABC and "The Bachelor" production team to secure and bring the program to the territory and to facilitate filming over an 11-day period in October 2012.
The filming prompted the Buccaneer to offer the "The Bachelor" couples package offering five nights of romance and privacy at the hotel for a per couple price of $7,250 through April 15 and $5,900 through Dec. 19.
Additionally, viewers will have the ability to follow in the footsteps of the cast with the Tourism Department's St. Croix Fantastic Flight Promotion that provides a $300 instant airfare credit on packages of six nights at participating hotels. It includes the sixth night free and a $20 Match Play Casino certificate.
Doty thanked The Buccaneer Hotel, Christiansted Retailers and Restaurant Association, National Park Service, Sandy Point Wildlife Refuge, V.I. Police Department, U.S. Fish and Wildlife Service, and local production crews. The Department of Tourism will maximize the national attention to the destination from the episode's airing to drive tourist arrivals this late winter through spring.