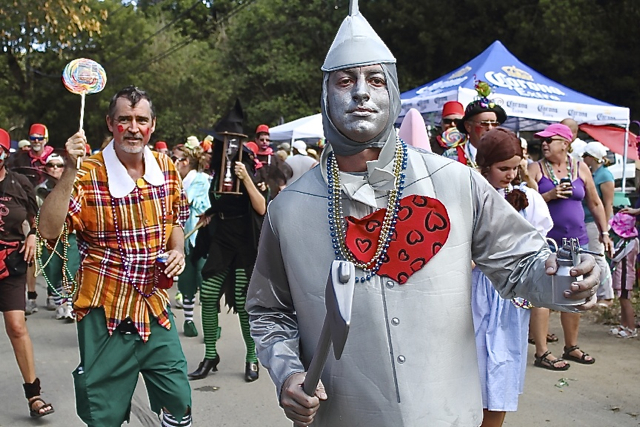 It may have been smaller, but the party was just as wild as ever Saturday at the annual Mardi Croix parade.
Fewer participants and a handful of last minute pullouts meant only a handful of floats made the trek along the north shore, but they were more than enough to make Cane Bay feel like Bourbon Street for a few hours.
The crowd started gathering on the beach well before noon, and many chose to test the limits of the old "it's five o'clock somewhere" adage. Wearing bikinis and neon wigs, a pair of waitresses from Eat at Cane Bay set up a mini bar by the road. To make things easier on the patrons, one waitress just wrote out the drink menu in magic marker on her arm.
Jesse Card of the St. Croix Libations Society was serving up "slurricanes," a local adaptation on the New Orleans Hurricane cocktail, mixed with Southern Comfort, Cruzan rum, pimento syrup, and passion fruit juice. He promised his take was much stronger than the original.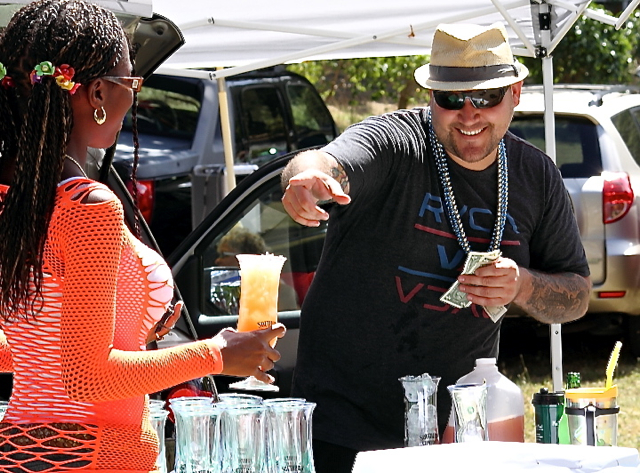 "I'm just trying to give out something authentic and real. Bring a little Mardi Gras to Mardi Croix," he said.
Just after noon, the first floats rolled by Off the Wall restaurant. There was a horse drawn carriage and a crew of dancing buccaneers who, with some brown cloth and a few pieces of wood, had transformed an SUV into a fairly believable pirate ship.
The main attraction was the Wizard of Croix float, which was accompanied a whole village of dancing munchkins and a flock of flying monkeys. There were even a few revelers cleverly dressed as the yellow brick road.
Every few hundred yards they'd stop and play-act a few scenes from "The Wizard of Oz." Afterward, the DJ would transition surprisingly smoothly from "Ding-Dong the Witch is Dead" to "Gangnam Style," and the whole affair would turn into a surreal line dance.
Rodrigo Fass said he'd been roped into playing the Tin Man by a few of his friends who are members of Krewe de Croix. He said he was impressed by how much effort they put into it.
"They take it very seriously," he said. "A lot of commitment. A lot of meetings beforehand. A lot of people who dedicated a lot of time to make it happen. They put on a good party."
Unfortunately, there wasn't much after the Oz float. Val Stiles of Krewe de Croix said they'd expected to have at least two more floats and a dance troupe, but they never showed up that morning and she didn't know why.
She also said that, like other nonprofits on the island, they'd seen a drop off in participation and donations since the closure of Hovensa.
"People aren't even buying T-shirts," she said.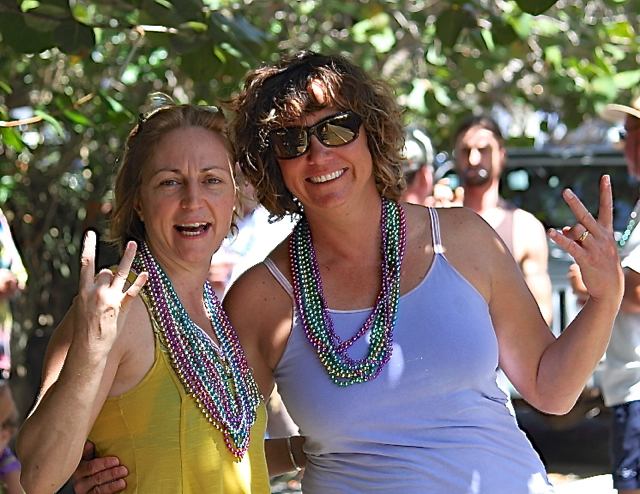 At a house party on the road, some revelers expressed disappointment with how short the parade was, but they took it in stride.
"My brother left the island because of the (Hovensa closure.) I videotaped the three floats and I'm going to send it to him and tell him I miss him," joked Elizabeth Harding.
"It was nice while it lasted," chimed in Donna Pavina. "It was cute."
At the beach, the parade slowed down and the line of floats bunched together. The crowd of spectators swept into the street and it became hard to tell who was actually in the parade and who wasn't. Soon the krewes of pirates and flying monkeys disbanded, grabbed a drink, and the entire Cane Bay area became one large block party.
Everybody seemed to have a smile on their face, and Stiles said that is what Mardi Croix is all about.
"I think everyone had a good time and that's what matters anyway," she said.