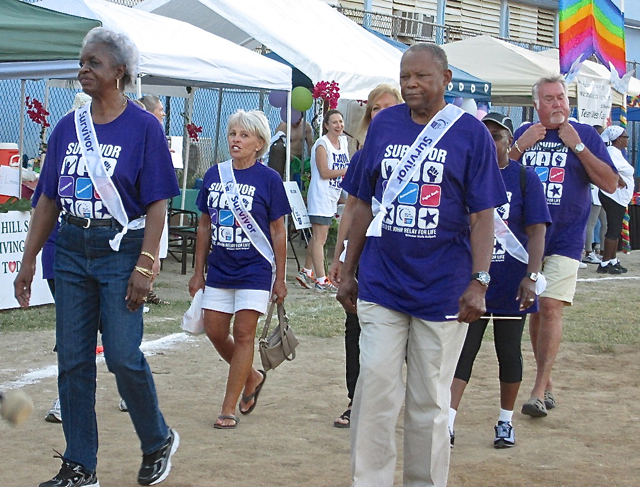 With a goal of raising $100,000 for the American Cancer Society, St. John residents took to Winston Wells Ballfield Saturday for the third annual Relay for Life.
Some wore purple cancer survivors T-shirts as they made their laps around the field in the survivors' walk. Others supported the event by buying blue Relay for Life T-shirts.
A total of 22 teams signed up to walk the field throughout the night, as is traditional at all such events across the U.S. Some team members are cancer survivors; others came out in support.
St. John resident Barbara Dalmida, who chaired the Relay for Life, spoke about her "auntie," Thelma Dalmida, who lost her fight with breast cancer, and her mother, Beatrice Dalmida, who is a survivor.
Others were there for similar reasons.
"A lot of people in our school had family members who died of cancer, and in the last three years, five family members died of cancer or are fighting it," Ruby Taylor–Cioppa said.
Taylor-Cioppa, 13, attends Montessori School on St. Thomas but lives on St. John, and she was on hand with a full complement of team members ready to walk the track.
Alpha Kappa Alpha Sorority joined forces with Guy Benjamin School in their quest to raise money.
"Cancer help is very important and needs to have as much money as we can get," team leader Pat Harley said.
The event raises money in a variety of ways. Before Relay for Life started, committee members sold 900 luminaries at $5 each. A team from Myrah Keating Smith Community Health Center raised $1,100 by selling bake goods.
Most of those teams set up tents around the field where the team members could rest when they weren't on the field.
"Starlight, star bright, we wish we had a cure tonight," read the banner for the team from Myrah Keating Smith, reflecting the hope of many.
The island's two major hotels, Caneel Bay Resort and the Westin Resort and Villas fielded teams.
"We're the Caneel Bay Oncology Warriors. We support our survivors," team captain Paula Tilas said.
The Westin's team captain, Elena Marruquin, said there were three cancer survivors on the team but she had another answer to the reason they came out.
"We're a member of the St. John community," she said.
During the opening ceremony, which featured a handful of speeches, Delegate Donna M. Christensen came armed with facts and figures. She said that cancer is the second leading cause of death across the country and in the territory.
According to Christensen, the 2008 mortality rate from cancer in the Virgin Islands was 88.9 per 100,000 people. In 2009, it was 112.
"All of us have a sense that our cancer prevalence is high and rising," Christensen said.
She said Health Department statistics showed that in 2009, colon and rectal cancers tied with trachea, bronchus and lung cancers as the leading types of cancer. Breast cancer was next, followed by prostate, stomach and lymphoid, hematopoietic and related tissue cancers. Pancreatic cancer rounded out the list.
However, many cancers are preventable and are linked to obesity, low fruit and vegetable intake, lack of physical activity, and tobacco and alcohol use. Christensen said that other than smoking, the other four behaviors are risk factors in the Virgin Islands.
"The key is early diagnosis," Christensen said.
In addition to Christensen, a smattering of local politicians was on hand for the event.
"I'm wearing my sneakers, let's support the survivors," Lieutenant Gov. Gregory Francis said as he got ready to take to the field.
Relay for Life will run until 10 a.m. Sunday.