The few residents at a National Oceanic and Atmospheric Administration meeting held in Christiansted Wednesday to discuss NOAA's proposal to list 66 coral species as endangered or threatened strongly supported conservation, with one citing a local rock quarry as a likely hazard to St. Croix coral.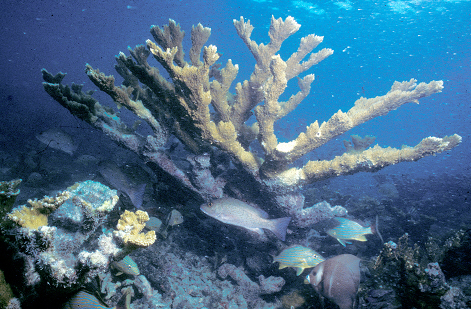 The listings NOAA proposed are in response to a 2009 petition from the Center for Biological Diversity to list 83 coral species as threatened or endangered under the Endangered Species Act, NOAA Endangered Species Act Corals Listing and Recovery coordinator Jennifer Moore told the small audience of perhaps a dozen.
Climate change was listed as the biggest threat, compounded by disease and reduced survival due to ocean acidification, Moore said. While those threats are difficult to address locally, some relatively important local effects include reef fishing, sedimentation, nutrients and sea level rise, she said.
NOAA looked at the scientific evidence and ultimately recommended 66 species for some level of protection, Moore said. Most of the species are native to the South Pacific, but seven of those proposed for the endangered list are in the Caribbean. Elkhorn and staghorn coral were already listed as endangered and are now proposed for the threatened list, she said.
The species proposed for the endangered list also include pillar coral, boulder star coral, mountainous star coral, star coral and rough cactus coral. Those proposed for the threatened list include Lamarck's sheet coral and elliptical star coral, according to NOAA data Moore showed in a PowerPoint presentation.
Protection under the Endangered Species Act would mean habitat protections, recovery planning, prohibitions on harming corals and prohibition of federal actions that could jeopardize the corals, she said.
Moore said listing species as endangered does not prohibit regular maritime activities like fishing or diving, but prohibits the specific "take" of those species, including harming, wounding, killing or collecting the species. It also prohibits imports, exports and commercial activities dealing in the species. These protections are not automatic for species listed as threatened, but can be established for them as well, she explained.
If an otherwise legal activity, such as dredging, might incidentally affect the corals, the person or company can apply for a permit from NOAA, Moore said.
And while taking these corals would be prohibited, NOAA will not be going after coral that is already in someone's possession. "It only becomes an issue if you want to transfer or sell it," she said.
NOAA received roughly 42,000 comments and collected 400 related scientific articles and reports, as part of the review, according to Moore. "Most of those (comments) were either in support or against listing in general and did not address the merits of individual listings," she said.
During the public comment portion of the meeting, Carol Johnson, a resident of the northwest end of St. Croix, said the Aggregate Inc. rock quarry's rock crusher was producing dusty runoff into Ham's Bay.
Johnson said Department of Planning and Natural Resources Commissioner Alicia Barnes reported to the V.I. Legislature in May that the crusher's dust has destroyed staghorn and elkhorn coral in Ham's Bay. (See "Fishing Licenses May Become Transferable at Will" in related links below)
NOAA is taking public comment on the proposed new listings until the end of March and will finalize the new rules by the end of the year, Moore said.
There will be another public meeting Thursday at the Windward Passage Hotel in Charlotte Amalie, St. Thomas, from 7 to 9 p.m.
To submit a public comment, go to www.regulations.gov and enter NOAA-NMFS-2010-0036 into the keyword search.