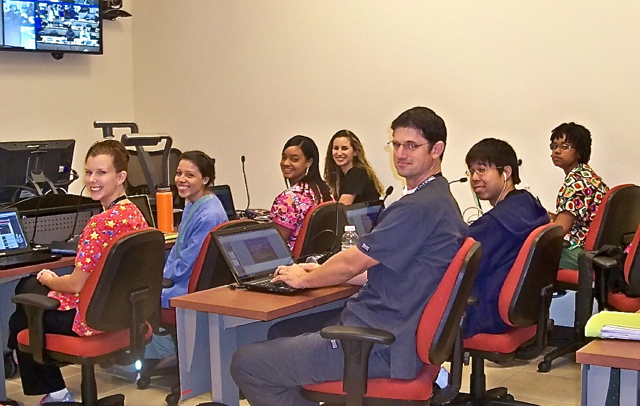 Barry University's physician assistant program on St. Croix is a bright spot in the island's troubles, preparing students to become well-trained health care providers.
It was also a bright spot for one young Crucian who was trying to find the next step in her life.
J'Lisa DerWeer, a 23 -year -old Crucian with a bachelor's degree in health and exercise science from Syracuse University, started the program in August and will graduate in December 2014.
"I'd like to think I chose Barry, but honestly I feel like Barry University chose me," DerWeer said. "I was just about to graduate from undergrad and was not too sure what my next move would be, when my mother mentioned a branch of Barry's physician assistant program was coming to St. Croix."
The program was launched by Barry University, which has its main campus in Miami Shores, Fla., as an answer to the school president's urging to expand its outreach.
"We found the Virgin Islands are medically underserved," Moore said. "There is a great need here for physicians assistants training. We applied for grants and it was a fast timeline."
The U.S. Department of Health and Human Services awarded Barry University $1.5 million to address the dramatic primary health care shortages in the U.S. Virgin Islands through PA training. The goal of the five-year grant project, led by Dr. Doreen C. Parkhurst, associate dean and director of the Barry PA program, is to improve access to primary health care of the medically underserved islands and to provide medical education to islanders to enable them to pursue careers as physician assistants after graduation.
At first the planners looked at opening an extension on St. Thomas. The focus was changed to St. Croix in November 2010 after administrators and stakeholders found a greater need there.
Things moved quick and the university's first PA class on St. Croix began in August 2011, with classes beginning in the V.I. Cardiac Center while their own classroom space was constructed in the lower level of Sunshine Mall in Frederiksted.
In December a dozen students will have completed 28 months of didactics, clinicals and rotations.
Students who successfully complete the program will be awarded the master of clinical medical science degree and the physician assistant certificate. The final step before seeking employment is taking the national boards.
The students have a working partnership with the Gov. Juan F. Luis Hospital, where they have assisted physicians in the emergency, internal medicine, obstetrics and gynecology departments. The students draw blood, suture, intubate, do head and neck exams and are doing clinical work at private physicians' offices.
DerWeer said the program seemed too good to be true when she actually got a tour of the campus and met the faculty.
"I felt like it was a dream when I found out I actually got accepted," DerWeer says. "It still feels like one now, I'm extremely grateful for the opportunity that I'm blessed with to be in this program."
DerWeer, said the best part of the program were her classmates.
"I don't think I would've been able to advance to a next semester without every single one of them," DerWeer said. "We're all so culturally different but come together as a family on a daily basis. Everyone has their own niche that fits perfectly in our own crazy hectic world, because trust me, it is crazy and hectic. They are always willing to lend a helping hand or brain when they really don't have to."
She added the faculty are an amazing group of people who exemplify what it means to be flexible and poised in such a hectic profession.
"Their doors are always open and are willing to assist in any way they can," DerWeer, said.
She said the course load the first semester was probably one of the hardest things she ever had to endure.
"I was pushed to levels that I was not even aware that I could go to," DerWeer said. "We get a glimpse of that when we get to practice medical procedures in our labs. Stitching rubber bands together today, will be pigs feet tomorrow, which will be an actual patient in less than a year. The work is hard but the reward is going to be sweet."
DerWeer said she sees a career for herself on St Croix.
"It pains me to see the distress that my people have to endure both medically and economically," DerWeer said. "I'm a big advocate for female empowerment and have a dream of opening a women's clinic one day, a place where girls can be educated about protecting themselves from disease and unwanted pregnancy and also where women can get STD tests and gynecological exams among other things in a safe and supportive environment."
The PAs will extend and complement the capabilities of physicians in the delivery of health care to locals.
Claire Lokitis, operations director of Barry's PA program, has a bachelor's of science degree in physician assistant studies and a master's degree in physician assistant education and leadership. She oversees the daily operation of the St. Croix branch, lectures in anatomy, pathophysiology and problem based learning courses, and serves as the physical diagnosis lab director.
Lokitis is involved in community events with the PA students, performing community service such as blood pressure screenings at the Agricultural Fair and other locations. Recently, the PA program conducted a pediatric physical diagnosis lab at the school, attended by local volunteer pediatric patients and their parents.
Eva Marie Gibbs-Stevens, a Crucian who is videoconferencing support specialist for the program, is providing technical support on St. Croix, enabling the PA program to educate students on its three campuses (Miami Shores, St. Petersburg and St. Croix) via interactive teaching. Gibbs-Stevens said it is amazing how new technologies have provided alternative teaching methods, allowing professors to be located in three separate sites that interact collectively at the same time.
Seana Hanley, administrative assistant at the branch campus and Crucian, said Barry PA students have been well received on St. Croix, since the residents realize they are providing valuable volunteer health care services on the island.
More information about the program is available online at www.barry.edu/pa or by calling 1-340-692-5060.