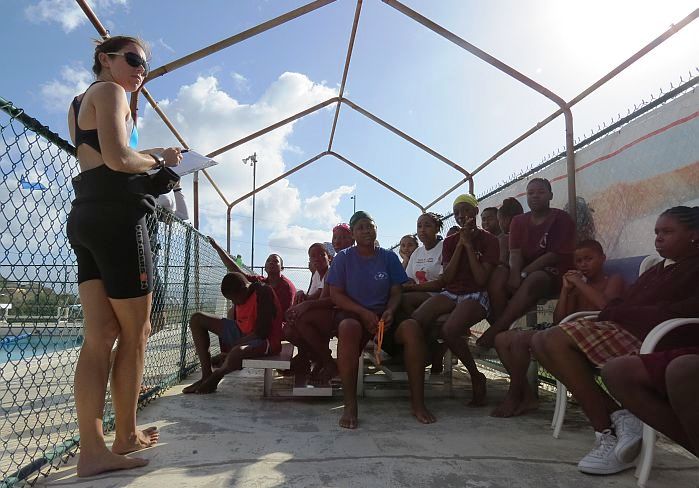 The Rotary Club of St. Thomas Sunrise and staff at the Royal Caribbean International and Celebrity Cruises Community Aquatic Center are teaming up to give Bertha C. Boschulte Middle School students the opportunity to learn how to swim.
Approximately 40 honor students from BCB were recently chosen for a pilot program sponsored by the Rotary club that lasts 12 weeks, for a total of 24 lessons. The first group of 20 started their lessons in December 2012, while a second group of students will be hitting the water next week.
The pilot program is an expanded version of a learn-to-swim program already offered at the Aquatic Center, according to Susan MacFarland-Helton, a former Rotary Sunrise president, who said her club decided to bring the program into the schools.
"We realized that from doing our annual Kids Triathlon event that a lot of kids in the public schools don't know how to swim, and we wanted to provide that opportunity for them," said MacFarland-Helton, whose son also learned to swim at the Aquatic Center.
"We contacted the pool and principal at BCB, which we thought would benefit from the program since it is somewhat close to the pool," she said.
MacFarland-Helton added that she hopes other clubs will step in and sponsor more classes for the program. She also hopes that graduates from the program will participate in the club's triathlon, which will be held this year on April 13.
BCB Physical Education coach Ernie Henneman said Thursday he also has his own hopes for the program's graduates.
"The kids have been really interested. They've been having fun and learning a lot and my hope is that out of these groups of kids, at least five of them would be able to join the swim team," he said.
The Aquatic Center is also home to the St. Thomas Stingrays swimming team.
"It's also been great to see how wonderful the students have behaved and how good they are about coming here and doing what they have to do," Henneman said. "I think it will really be an encouragement the next set of students we have."
According to swim instructor Brianna Burks, many of the students who began with little to no experience swimming are now "fairly comfortable" swimming freestyle across the center's 25-meter pool. Burks' program has the students working on a variety of swimming skills, including going underwater, holding their breath, kicking and building arm strokes.
"I would love if we could touch every school," Burks said Thursday. "It would be great if we could get the whole island comfortably swimming."