St. John's Martin Luther King Jr. Day observance Monday drew to a close with words that will live for the ages.
"Free at last! Free at last! Thank God almighty, we are free at last," the nearly 75 people gathered in Cruz Bay Park said in unison before joining their voices to sing "We Shall Overcome."
The observance began with a march led by the Julius E. Sprauve School Marching Band from the fire station to the park. A group of children mainly from Gifft Hill School were joined by other children and adults as they made their way to the park for performances, music and a keynote address by Sen. Tregenza Roach.
Although he spoke about King's life, Roach focused on how everyone is responsible for each other. In this vein, he touched on the violence that pervades the Virgin Islands and other places. He said that Sunday night he got a text telling him about two people who were killed that day on St. Thomas.
Roach called on the community to come together on the violence issue as it did in days past when nearly the entire St. John community gathered at the ferry dock to send resident Elroy Sprauve off to college.
He also noted that while people may not like it when someone makes a joke about their ethnicity, it shows prejudice when that person turns around and makes joke about someone else's ethnic background.
In discussing current events in the digital age, Roach said he recently heard about an incident in which a college professor collapsed. Instead of immediately calling for help, the students first took the professor's picture and put it on Facebook.
"Then they called 911," he said.
Later in the program, Superior Court Magistrate Alan Smith, who lives on St. John, said he wept on April 4, 1968, when he heard that King was murdered. Smith said that if were not for King's life and death, President Obama would not be sworn in for the second time on Monday.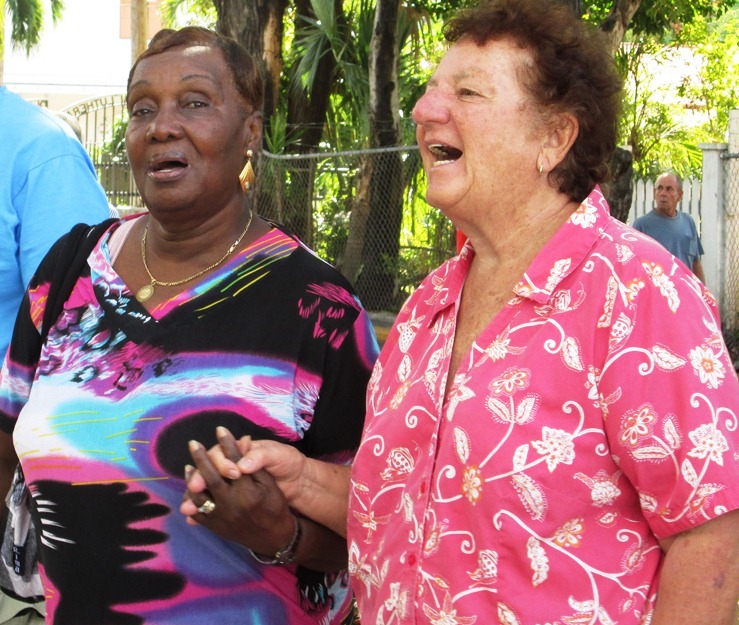 "It never occurred to me on Martin Luther King's death that a black man would take the oath of office of president," Smith said.
After a hiatus of several years, the Martin Luther King Day observance was held again on St. John. The Rev. Carlyle Sampson of Nazareth Lutheran Church, who organized the event, said that last year it was a small observance in his church, but it's growing. He said he hopes that next year it will be even bigger and soon return to the days when it included a community luncheon.
In addition to the speeches, prayers by clergy from various St. John churches and music by Sax and Strings, as well as Faye Fredericks, the observance featured readings and songs by children from Gifft Hill School and Better Beginnings day care center.
"He was a very brave man and he lived like you and me," sang the Better Beginnings students.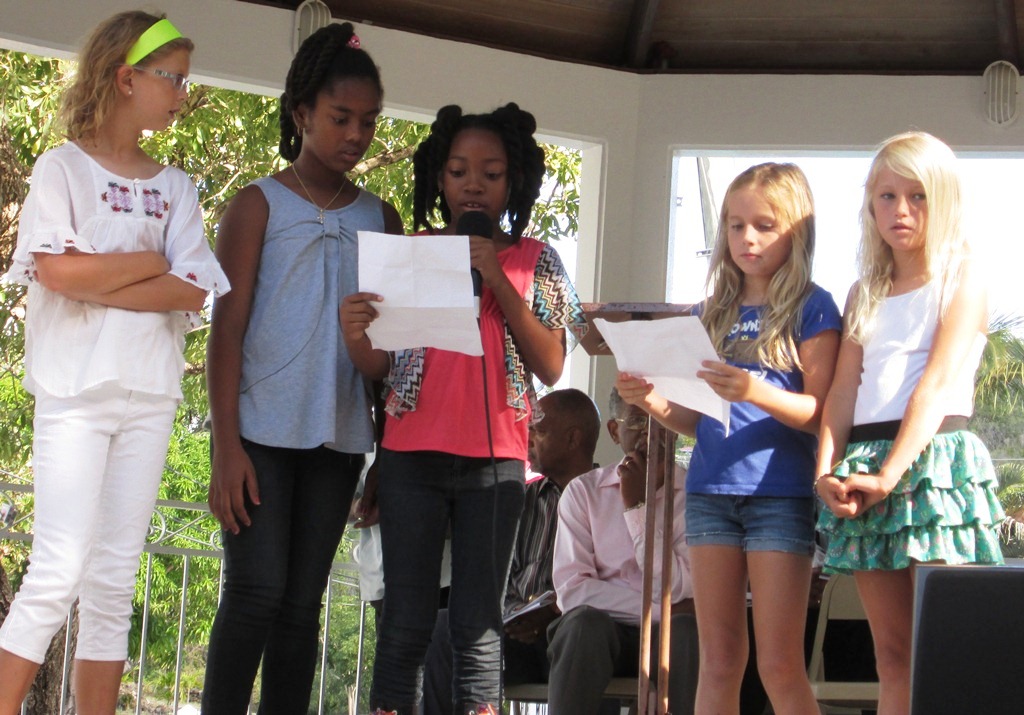 The Gifft Hill students read inspirational messages.
"It doesn't really matter the color of our skin, but the color of our character," they said.