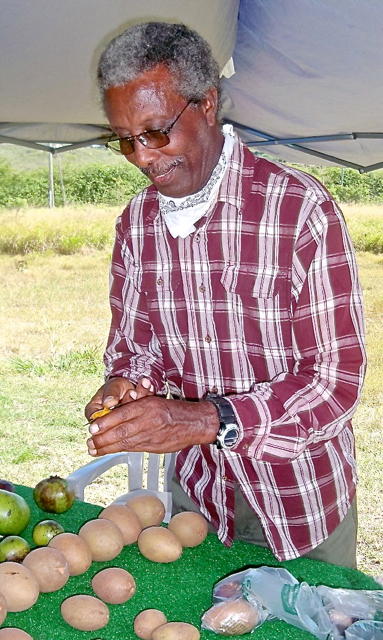 Aberra Bulbulla laid a plan for his life's work, and so far it has worked as planned.
He left Ethiopia, got his master's degree, got a good job at the University of the Virgin Islands, bought four acres of land, planted fruit trees, retired at 59, and is now literally harvesting the fruits of his labor. He knew he could eventually make a living farming.
"It takes fruit trees 10 to 16 years to mature," Bulbulla says.
He moved to St. Croix 20 years ago for a job at UVI, working as a research analyst at the Cooperative Extension Service. He specializing in irrigation and worked with fruit and ornamental trees. While he worked there he started planting on a quarter of an acre. Twelve years ago he received a small business loan and bought four acres in Estate Waldberggaard, located behind St. George Village Botanical Garden.
He has planted more than 300 tropical fruit trees.
"I have over 40 different varieties of fruit on my farm," Bulbulla says. "It's a pleasure to watch fruit grow. Tropical fruit is fantastic and there are so many different kinds. I love all of them."
He says his favorite is Julie Mango, and the public likes avocado.
The fit-looking 64-year-old says at this stage the work in the orchard is fairly easy.
Back when he first started planting there was more to do, irrigating and fencing. Now in a typical day he goes out early and does some mowing and pruning, and there is always something to harvest. He sells his fruit in Southgate and the La Reine Market, Wednesdays and Saturdays.
At his farm stand in the Southgate area on the corner before Cheese Burgers in America's Paradise, he recently had piles of tropical fruit. There was the large, dark purple "star apple" that is pretty when cut and tastes a little like a plum. He had the oddly shaped "egg fruit" that has the texture of a hard boiled egg yolk but has a sweet taste. The "chocolate fruit" or persimmon, has the texture of chocolate mousse with its own distinct taste that is sweet but not very chocolaty.
He offers customers fresh cut samples, saying "Taste it, you'll like it, buy it." He adds he gives the customers what they want with good service.
He has been selected the St. Croix Agricultural Food Fair Farmer of the Year four times. The Farmers Market at the fair was named in his honor in 2010. He was so modest about the awards he hesitated bringing them up.
He says the challenging part about farming is marketing and distribution.
"I can do added value with jelly, juice, wine, pies and cobblers," Bulbulla says. "If I sold these products I could make more money. Whatever I grow can be made into something."
He has one part-time employee.
His trees are now mature and are producing more than he can market himself. He wants to sell his business to a family that can take care of the whole operation. He adds he grew up on a farm and started learning farming at a young age.
He has his bachelor's degree from Florida Agricultural and Mechanical University and his master's degree in general agriculture from California State University Fresno.
He doesn't have any plans for what he will do next.
"I can't sit still," Bulbulla says. "I'll come up with something."