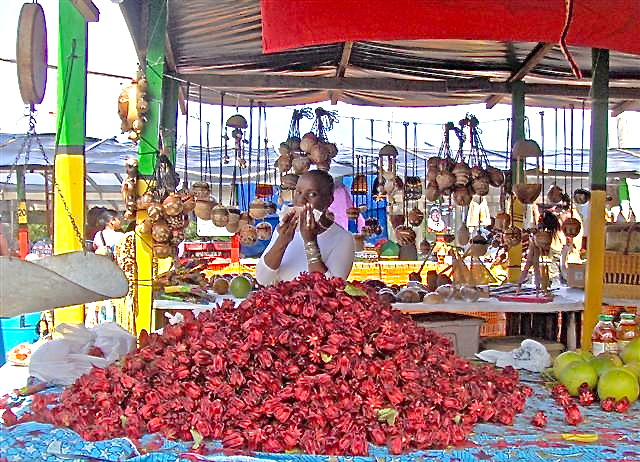 Head to the verdant hills of Bordeaux this weekend to sample St. Thomas's finest fresh, local produce, listen to local bands and learn about traditional crafts, from broom-making to tie-dying, at the 16th annual Bordeaux Farmers Rastafari Agricultural and Cultural Food Fair.
For years, the Bordeaux farmers collective We Grow Food Inc., has held its monthly market, the last Sunday of each month, with high-quality fresh, local cucumbers, pumpkins, herbs, greens, sorrel and more. And they consistently pull out all the stops to bring a special energy to the annual weekend festival.
Farmer of the year Eldridge "Sparks" Thomas will be honored during opening ceremonies, which begin around 10 a.m. Saturday. The fair runs from 10 a.m to 10 p.m Saturday and Sunday.
There will be lots of fresh, homemade vegan and raw food, reggae music, farm tours, agricultural demonstrations and more. There's something for almost everyone over the two days: art, jewelry, crafts, all with the background of the wonderful aromas of freshly cooked food wafting throughout.
There is plenty of free parking on the road, which leads to the old Bordeaux Tennis Courts, where the event is traditionally held.The theme this year is a "New Market; A New Scene! Support Bordeaux Farmers 2013," in celebration of the brand new market facility, which opened with pomp and ceremony earlier this week. (See related links below)
The new site includes a new pavilion for vending, sales tables with lockable storage units, sinks for washing produce and a wooden dining pavilion with a mountaintop perch overlooking the ocean, to provide a comfortable place to sit and enjoy the bounty of fresh food. It also has a 60,000-gallon cistern.
The V.I. Energy Office will be there with information about conservation and alternative energy.
Admission is $3 during the day, with children accompanied by an adult entering free. Admission is $10 after sundown,when there will be a live reggae concert featuring Unity Band, Inner Vision Sister Joyce, Harry Mo and perhaps the highlight; St.Thomas's Midnite Band.
Further information is available online at the We Grow Food Facebook page, http://www.facebook.com/WEGROWFOOD for full details.