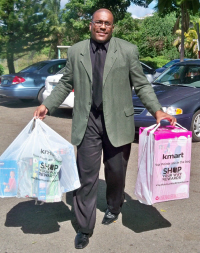 On Friday, Jennifer Matarangas-King, vice president of Public Relations and Governmental Affairs at Innovative Companies, presented a much-needed check for $1,000 to representatives of Lutheran Social Services at Queen Louise Home for Children.
Susan Kraeger, director of public relations and development with Lutheran Social Services, said the donation is more important now than other years because giving is down due to the loss of donations from Hovensa. She added the donation will go into the general fund and could be used for
the Water and Power Authority bill or anything else that comes up.
"This is incredibly generous and fabulous," Kraeger said. "It means a lot to us. Innovative is a wonderful asset. They've always been there for the community." Kraeger added the home has a great track record and has never closed its doors in the 108 years it has been in existence.
For the sixth consecutive year, Innovative Cable TV St. Croix has made monetary donations between $500 and $1,000 to the home. And for the second year in a row the Innovative Wireless Stores donated new toys to the children at the home. On St. Thomas, the Family Resource Center received a share of the donated toys.
Greg Clark, Innovative Wireless Retail Store marketing manager, delivered bags full of new toys collected in the Holiday Toy Drive.
"The giving by the community was wonderful," Clark said. "The donations kept coming in, so we extended the Dec. 21 cutoff until the end of the year. People were bringing in toys by the hundreds."
When people donated toys valued at $25, they received $100 off on phone services as an incentive. People gave Legos, dolls, remote control cars, educational toys and more.
Kraeger said the children will be beside themselves when they receive the new toys.
Through the generosity of the Caribbean Cable and Telecommunications Association (CCTA), two Innovative Companies in the U.S. Virgin Islands, the organizations received a $1,000 grant from the Association's 2012 Community Charities Program.
The Queen Louise Home was nominated for the grant by Innovative Cable TV St. Croix. For the second time, Innovative Cable TV St. Thomas- St. John nominated Nana-Baby Children's Home. Both organizations were chosen as grant recipients because of the outstanding service and assistance they provide to children in the Territory.
"While the Innovative Companies continue to give generously to our community, it is clear that our focus has been on the education, development and well-being of our youth. We are proud to be able to support these two very worthy organizations on an annual basis." Graciela Rivera, vice president of Cable TV Services, said.
Formed in 1983, the Caribbean Cable and Telecommunications Association represents cable and telecommunications providers throughout the Caribbean and the programmers, software and hardware suppliers that support their operations.