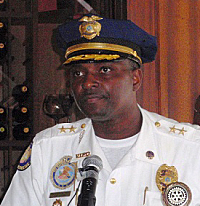 The V.I. Police Department will be out in force Monday night on St. Thomas, showing a presence at a concert by Rick Ross, the rap artist whose turbulent career has included number-one selling songs and industry awards, along with threats from gangs.
"The event itself has hired security, and the V.I.P.D. will have our own officers who are working," said Darren Foy, police chief of the St. Thomas/St. John District. "We have an operational plan that will be in effect, although I don't want to give any specifics. … We'll be there, be making inspections, looking for anything that may be alarming."
The concert, presented by Star Black Promotions of St. Thomas, will take place at the Addelita Cancryn Middle School. Friday the promoters were on the site, setting up the stage and stands for the concert.
"We're expecting a very big crowd," said a Star Black spokesperson. The woman, who gave her name as Talita and said she was marketing manager, said other performers for the New Year's Eve concert will be Ace Hood, Cash Out, and deejays DJ Jeff, Kash and Red Lion Sound, and surprise guests are also planned.
"We've been working on this since end of last year," Talita said.
Foy said the police will be ready for anything.
"I know a lot of people are talking about the show," he said. "I do expect a large crowd."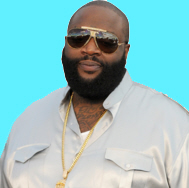 Of special concern is a video "warning" to Ross posted this fall on YouTube in which members of the Gangster Disciples, many wearing masks, made threats to the rapper. Ross had mentioned the name of the Disciples founder Larry Hoover in his song, "B.M.F. (Blowin' Money Fast)" and the gang apparently took offense. Hoover is serving six life sentences in a federal maximum security prison.
The video does not explicitly threaten the rapper, but the profanity-riddled diatribe is recited in a menacing tone, and many of the gang members in the video make threatening hand gestures, including holding out their hands towards the camera as if holding a pistol, their index fingers flexing as if squeezing a trigger. The main speaker talks about sitting down with the rapper to straighten things out, and makes repeated reference to "cutting a check."
Ross has dismissed the video as an extortion attempt and has said the cancellations were caused by mismanagement and miscommunication with a former manager. He is quoted in a story on the MTV website as saying, "I canceled the rest of the tour due to the promoter, he wasn't really handlin' his business."
The gang, on the other hand, has suggested Ross and other artists on his label are not welcome to perform in states where they hold sway – including Illinois, North and South Carolina, Alabama, Georgia and Florida – until Ross "cuts a check."
The Gangster Disciples started in Chicago in the 1970s and now have a nationwide presence, including a chapter, or "set," in Puerto Rico.
Foy said he is aware of the potential dispute and the police will be ready.
"We come and do what we have to do. If we see something we'll take care of it," he said. "It's what we do for all events. We're there to make sure people are safe and have a good time."
In 2006, Ross's debut album, "Port of Miami," went to No. 1 on the Billboard Top 200 Album chart. His 2008 follow-up album, "Trilla," also went immediately to the top of the chart. He founded his record label, Maybach Music Group, which released his studio albums, 2009's "Deeper than Rap" and 2010's "Teflon Don." This year MTV named him "Hottest MC In the Game."
At the same time, Ross has had occasional run-ins with the law, including a 2008 arrest for possession of marijuana and a gun, and a 2011 lawsuit over his performing name. Ross was born William Leonard Roberts II and took the stage name Rick Ross after "Freeway" Ricky Ross, a convicted drug dealer, who sued claiming copyright infringement. The suit was dismissed.
Ross's "street cred" took a further hit when it was learned that before becoming a performing artist he had worked 18 months as a correctional officer in the Florida penal system.
Gates open for the concert at 8 p.m. Tickets are available at Urban Threads on St. Thomas and St. Croix, W&W Fast Food on St. John, and Native Son on Tortola in the British Virgin islands. Early bird tickets cost $40, with regular admission $50 and VIP tickets $150.