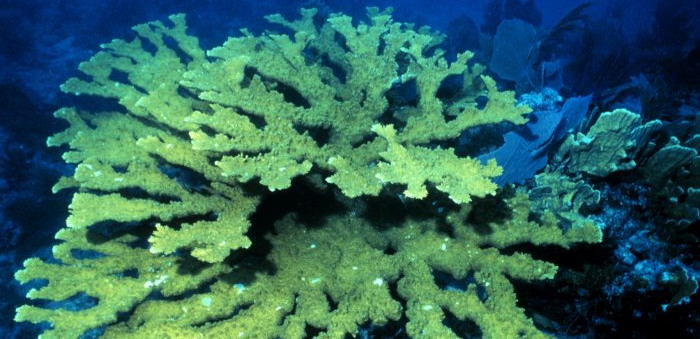 The National Oceanic and Atmospheric Administration will hold a webinar at 5 p.m. on Dec. 19 to discuss the agency's proposal to include 66 coral species on the Endangered or Threatened Species lists. Seven of those proposed for the endangered list are in the Caribbean. Two are proposed for the threatened list.
NOAA communications specialist Kim Amendola said the webinar is "set up for constituents who want to learn more about the issue." She said anyone interested in the listing of these corals is welcome to attend.
Two of the seven species, elkhorn and staghorn corals, are already on the threatened list but NOAA wants them reclassified as endangered.
The species proposed for the endangered list also include pillar coral, boulder star coral, mountainous star coral, star coral and rough cactus coral. Those proposed for the threatened list include Lamarck's sheet coral and elliptical star coral.
This proposed listing is in response to a 2009 petition from the Center for Biological Diversity to list 83 coral species as threatened or endangered under the Endangered Species Act. NOAA indicated that 16 didn't warrant listing because they had buffers such as high abundance and wide-ranging distribution. Additionally the CBD didn't provide enough information on one species. None of the ones that didn't make the list were in the Caribbean.
NOAA plans to make a decision by December 2013.
The webinar provides only the slide show so if you want to hear the conversation, Amendola said you must call in.
Additionally NOAA will hold public hearings on the proposal in Florida, Puerto Rico and the Virgin Islands.
Public meetings in the territory will be held Feb. 6 at Buck Island Reef National Monument office in Christiansted, St. Croix, and Feb. 7 at the Windward Passage Hotel in Charlotte Amalie, St. Thomas. They both run from 7 to 9 p.m.
You must register at www1.gotomeeting.com/register/391608776 in order to participate in the Dec. 19 webinar.
For the call in portion, call 800-369-1884 and use the password "corals."
International callers should phone 312-470-0116 and use the password "corals."