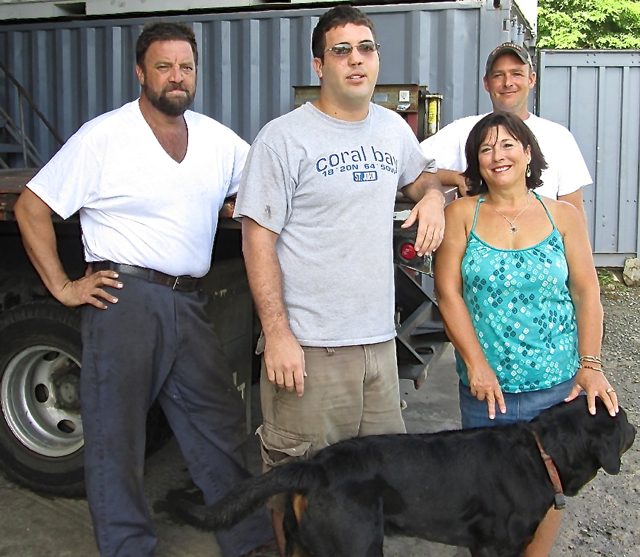 St. John Repair Shop is a family affair. Mom Terry Dennis keeps the office in line. Son Levi Dennis schedules appointments. Dad Bill Dennis and son Eric Schnell and employees David Taylor and David "DJ" Jean get the vehicles back on the road.
"We fix cars," Levi Dennis said, summing up a long list of services available at the shop's Centerline Road location across from Paradise Lumber in Susannaberg.
Services include, air conditioning recharge and leak detection, brakes, suspension, differentials, oil changes, electrical, alignment, registration inspection, pre-purchase vehicle inspection, heavy equipment hydraulic cylinder rebuilds, frame repairs, and more.
It's a busy shop and growing by leaps and bounds since the family opened it in early 2010.
"We saw the need," Levi Dennis said.
This summer they added more work bays, hired two mechanics and are busy expanding the shop so repairs can be done faster.
While they aim for a one-day turnaround, that's not always possible. They get parts on St. John and from the mainland, but sometimes the wait for a part to arrive means a delay in getting the vehicle back to the owner.
When the shop first opened, vehicles that hadn't run for years found their way to St. John Repair Shop. Some hadn't had any maintenance. Others were packed with sludge.
"I don't think people changed their oil a lot," Terry Dennis said.
According to Schnell, people who drive their cars every day should change the oil at least three times a year.
Terry Dennis said people now seem to be taking better care of their cars since St. John Repair Shop makes it easier to do so.
No doubt, island driving is tough on vehicles.
"It's like dog miles. A hundred miles here is like 500 miles in the states," Levi Dennis said.
The roads twist and turn, some are dirt and others are poorly maintained, situations that cause problems for island cars.
If you're buying a new or used vehicle, Levi Dennis suggested you buy a Toyota, Honda or Suzuki. Avoid a Ford Ranger, Chevy S-10, Jeep Liberty, a newer Jeep Wrangler, Dodge Durango, and vehicles from Kia and Mitsubishi because Levi Dennis said they're the ones that seem to cause the most problems.
Eric Schnell and brothers Kevin Schnell and Matthew Schnell arrived on St. John in dribs and drabs starting in the early 2000s. They initially arrived to work with their uncle, potter Donald Schnell. They moved on to other things, with Eric Schnell getting involved with the family business.
Their parents moved south from their home in New Lothrop, Mich., in 2009 with Bill Dennis working as a stone mason before he began fixing vehicles.
"I moved here sight unseen," Terry Dennis said. Levi Dennis arrived in 2010.
It was the first foray into business for the family, and they're pleased it's working out.
In addition to keeping the vehicles owned by St. John residents on the road, they also fix cars owned by St. Thomas residents who encounter problems while visiting the island's beaches. And they also get calls from St. Thomas-based car rental agencies that have customers who are staying on St. John.
Since the shop is open six days a week, nobody has much in the way of free time.
Hours are 7:30 a.m. to 5:30 p.m. Monday through Friday and 8 a.m. till 2 p.m. Saturday. Walk-ins are welcome but appointments are suggested. The shopp's phone is 1-340-227-0646.