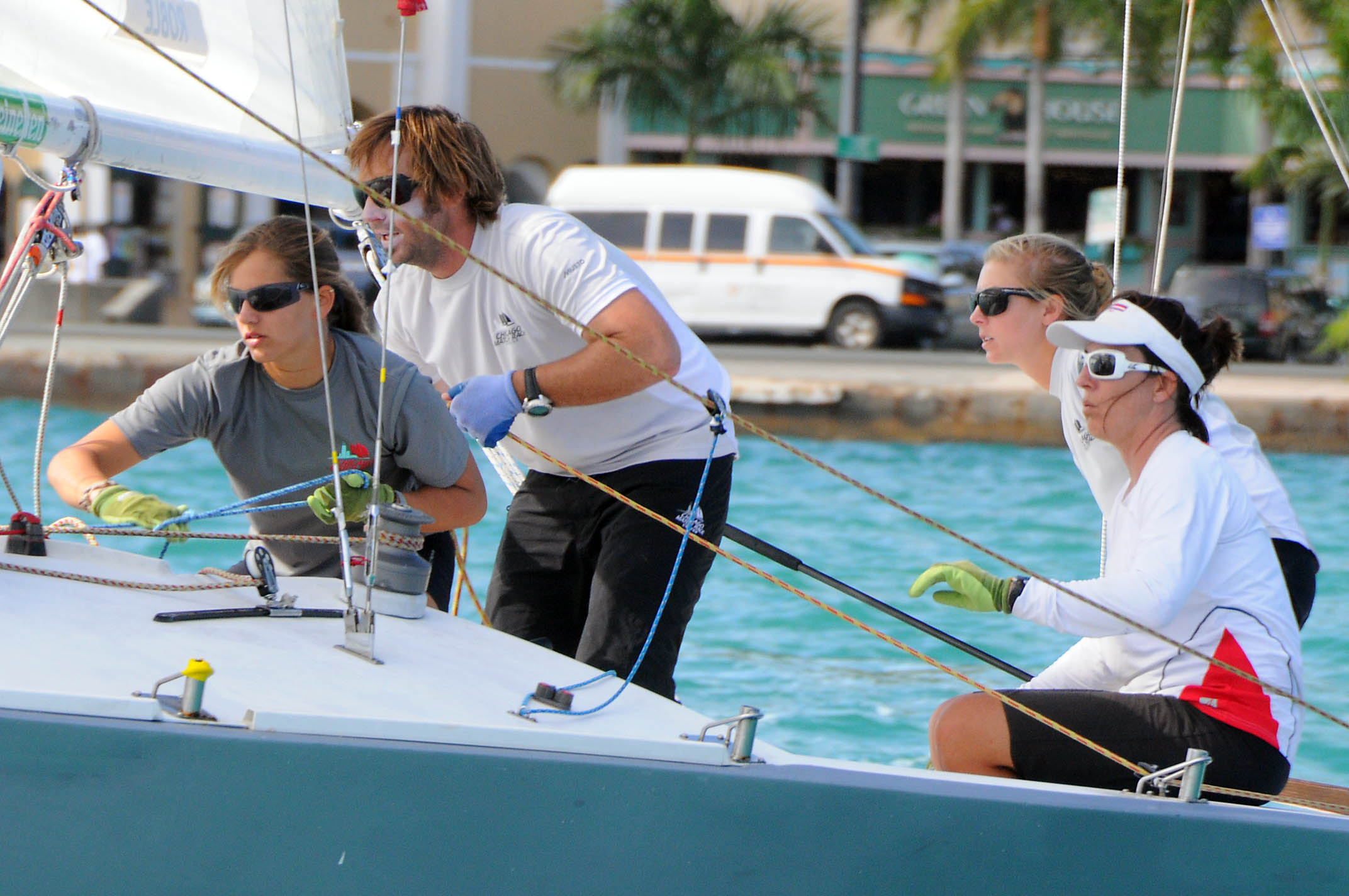 Whitecaps on the Charlotte Amalie waterfront with winds gusting 20 to 25 knots made for spectacular sailing on this third day of competition at the 5th Carlos Aguilar Match Race (CAMR), presented by Ulysse Nardin/Trident Jewels & Time.
The USVI's Peter Holmberg continues his lead after day three of competition and the completion of two round robins with 18 wins. Tomorrow, Holmberg will pick his opponent from among the second through fourth place skippers – the USA's Sally Barkow with 17 wins, Dave Dellenbaugh with 14 wins and Dave Perry with 11 wins – to sail against in the semi-finals.
Perry and Brazil's Henrique Haddad tied with 11 wins; however, Perry's beating Haddad in Flight 18 of the second round robin broke the tie and knocked the Brazilian out of the semis. Still, Haddad enjoyed a great day winning several of his matches.
"We made some mistakes and only won two matches and lost four on the first day. Yesterday and today we came back strong with more wins and we'd like to keep it going," said Haddad, who hopes to represent Brazil in the International 420 in the 2016 Summer Olympics in Rio de Janeiro. "The strong breeze today really helped. It (the wind) was steadier, less shifty."
In other results, the USA's Christopher Poole has seven and a half wins, the USA's Stephanie Robles seven wins, USVI's Tyler Rice seven wins, Denmark's Lotte Meldgaard Pedersen seven wins, Brazil's Renata Decnop six wins and Germany's Sven-Eric Horsch four wins.
The USA' Stephanie Robles, who skippered in last year's CAMR, is back with new crew and has enjoyed the ups and downs inherent in match racing. "We've had trouble getting the gears to click, common stuff like getting our groove upwind," Robles said. "Yet we've had some shining moments like beating both Daves (Dellenbaugh and Perry)."
Dellenbaugh, is the publisher, editor and author of "Speed & Smarts" racing newsletter, while Perry is the author of "Understanding the Racing Rules of Sailing 2009-2012." Both are accomplished fleet and match racers and both earned entry into the CAMR's Semi-Finals.
Interestingly, Perry agreed to skipper this year at the last minute after the USVI's Taylor Canfield, who has sailed the CAMR since its inception and won in 2008, earned a wild card entry into the Alpari World Match Racing Tour's Monsoon Cup, the most coveted event on the tour. The Monsoon Cup ended today with Canfield declared the winner in a spectacular finale. Canfield follows Holmberg as the second Virgin Islander to win the Monsoon Cup.
The Carlos Aguilar Match Race Youth Regatta, sponsored by Budget Marine, took place at noon. Thirty students from the Gladys Abraham Elementary School, Sankofa Saturdays and the Environmental Rangers programs paired up with six of the CAMR's skippers in a three-lap fleet race. The competition was close and all boats finished seconds apart, making everyone a winner.
"It was fun," says Elizabeth Ferguson, a 6th grader at Gladys Abraham Elementary School. "I liked being able to reach down and put my hands in the water as we sailed."
Jencoy Blaize, a fellow 6th grader at the same school, also had a great time. He tested his driving prowess on the tiller with coaching help from Brazil's Haddad. "The part I liked best was going side to side," Blaize says, about tacking. "I also like that we won!"
Participation in the Youth Regatta was a great experience for the youngsters, said Vincent Henley, physical education instructor at Gladys Abraham Elementary, who has organized swimming, rowing and stand-up paddle-boarding experiences for his students. "It's a first experience for many of the students and one we'd like for them to continue. We base out of Brewer's Bay by UVI and would welcome the donation of a boat so the students can learn more about sailing."
This four-day regatta, sailed in Inter-Club (IC)-24s, will continue Sunday with the semi-finals and finals. The finals will be broadcast live locally on WVWI (AM 1000).
Up for grabs is a distinctive Ulysse Nardin precision timepiece for the winner.
Match racing pits one identical boat against another on a short course oftentimes near to shore. On-the-water umpires make instant calls and enforce the rules. The result is very exciting racing up and down the Charlotte Amalie waterfront. Spectators are invited to watch the racing under tented bleacher seating where there will be live narration. Viewers around the world can watch via a live webcast on www.carlosmatchrace.com. Racing starts at 9 a.m. (GMT – 4 hours) daily.
The St. Thomas Yacht Club (STYC) and the Virgin Islands Sailing Association (VISA) are organizing authorities for the CAMR, namesake for the late Carlos Aguilar, who was an avid sailor and match racer.
Day Three – Preliminary Results (Number of Wins)
Peter Holmberg, ISV, 18
Sally Barkow, USA, 17
Dave Dellenbaugh, USA, 14
Dave Perry, USA, 11
Henrique Haddad, BRA, 11
Christopher Poole, USA, 7.5
Stephanie Robles, USA, 7
Tyler Rice, ISV, 7
Lotte Meldgaard Pedersen, DEN, 7
Renata Decnop, BRA, 6
Sven-Eric Horsch, GER, 4