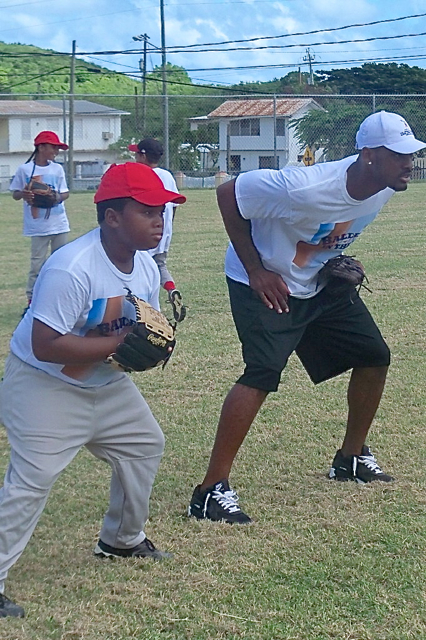 Sunday morning at D.C. Canegata Ballpark in Christiansted more than 40 eager Little Leaguers on St. Croix got to compare themselves to the bigs, as they took lessons from Major League Baseball players.
Jabari Blash, an outfielder for the Seattle Mariners and a St, Thomas, Charlotte Amalie High School graduate, decided he needed to give back to the community. He recently organized Ballers in the V.I. to motivate and encourage boys to excel at school and in sports.
Blash went to Okinawa, Japan, in October with his girlfriend, Vanessa Donastorg, an international delegate from the U.S. Virgin Islands competing in the Miss International Beauty Pageant. He was impressed with the charitable work the women did.
"Jabari was really impressed with what we did and the power of pageantry," Donastorg, co-chair of Ballers in the V.I., said.
"I was inspired by the women in the pageant so I decided I wanted to do something for kids," Blash said. "This is a way for me to give back to my community. We are young but effective with the Little Leaguers. The whole idea is for the kids to get motivated."
The boys dressed in their team uniforms listened intently to Blash as he introduced the other professional players that were helping with the Ballers in the V.I. 2012 clinic. Then they hit the field running to warm up and stretch before breaking into age groups from 9 to 16 years old.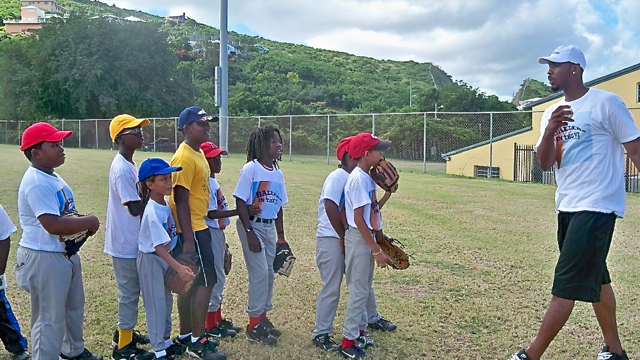 The boys did base running, balls off the walls, ground balls, fly balls and more before they broke for lunch and a talk from the big leaguers.
Blash told the boys and parents gathered at the free clinic about being involved and taking school seriously. He encouraged the boys to practice and stay motivated. He elaborated about his own journey – from where he started and to where he is today.
Marisol Santana, a grandparent in attendance, said it is very important for kids to get into athletics and maybe get the chance to play professionally. "Baseball keeps kids entertained and out of trouble," Santana said.
"This is a lot of fun," said Jonathan Dennis, 11-years-old and St. Croix Angels team member. " I'm learning a lot of new things today." Dennis added he would like to go far in baseball. The little guy had a strong, accurate throw and could also run fast.
Romani Hansen, 15-years-old and on the St. Croix Yankees team, said it was a great experience meeting the professionals.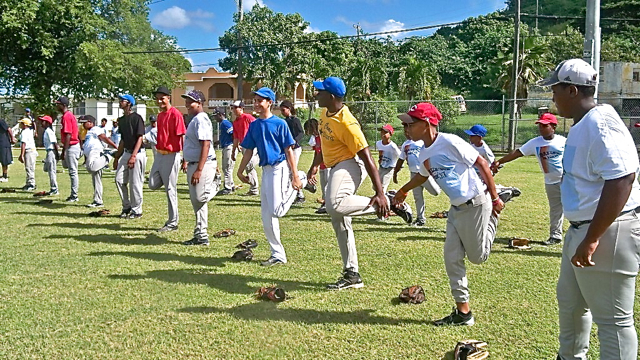 "They gave us encouragement and said if we work hard we can accomplish anything," Hansen said. "Even if we are from a small island, this shows we can make it to the big leagues."
Blash plans to offer the clinic annually and hopes to form a foundation to raise money for scholarships in honor of his brother, Jaycobie Blash, who died in a motorcycle accident in 2009.
Blash was joined by his teammates, Jamal Austin and Dillon Hazelett. Virgin Islanders Jamaine Cotton of the Houston Astros and James Sneed of the Los Angeles Angels of Anaheim. Also on hand were: Mycal Jones of the Atlanta Braves; Akeel Morris of the New York Mets; Desi Relaford of the Philadelphia Phillies and other teams; and Anthony Hewitt, a first round pick for the Phillies in 2007.