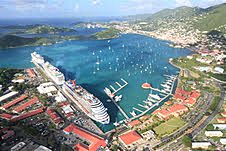 The West Indian Company, granddaddy of the territory's commerce and tourism, is celebrating a century of service to the Virgin Islands with a free public centennial celebration from 3 p.m. to 5 p.m. Tuesday at the WICO dock.
Bring your dancing shoes as the festivities will take a musical turn with the Spectrum Band performing from 6 p.m. to 10 p.m.
The company was founded on Dec. 12, 1912, by a consortium of Danish businessmen led by H. N. Andersen of the East Asiatic Company. It was founded specifically to assist Denmark in bolstering the Danish West Indies economy at a time when assistance from the private sector was desperately needed to improve the islands.
Andersen, who had extensive experience in the shipping industry, believed, rightly, that St. Thomas could be a major refueling and provisioning port in the Caribbean when the Panama Canal opened, which it did two years later.
Since its parent company was in the freight and passenger business, WICO brought experience, efficiency and expediency to the islands.
They knew what ships needed when they arrived in port, so they knew what it took to run a successful bunkering operation. They also knew the importance of having a sound, supporting local infrastructure.
Over the past 100 years, WICO has been an integral part of the community's growth and infrastructure. The company's hand can be seen in a multitude of developments, cultural and commercial. They include:
construction of the West Indian Company dock and its facilities;
the opening of Maison Danois, the territory's first gift store, in 1936 to accommodate the newly developing tourist market;
the purchase of the K.C. Bay property on St. John, which it called Caneel Bay;
ferry service between St. Thomas and St. John;
the development of the Long Bay area including Pueblo Supermarket and Vitraco Mall;
and, of course, developing Charlotte Amalie as the premier port for cruise ships visiting the Virgin Islands.
In 1993, the government of the Virgin Islands purchased the West Indian Co. Ltd for $54 million. The company grew and flourished under it first native president Edward E. Thomas, who served from 1993 to his retirement last year.
WICO's real estate responsibilities include oversight of Havensight Mall and Port of Sale Mall. Between the two, they house a diverse tenant profile: medical and professional offices, retail stores, bars, restaurants, warehouses, retail stores, attractions, a bank, pharmacy, fitness center, post office, and bookstore.
Joseph Boschulte, who was named WICO president and CEO in May, said in a statement, "We are pleased to have been of service to the territory for the past one hundred years. This a significant achievement we all can share in and of which we can call be extremely proud."