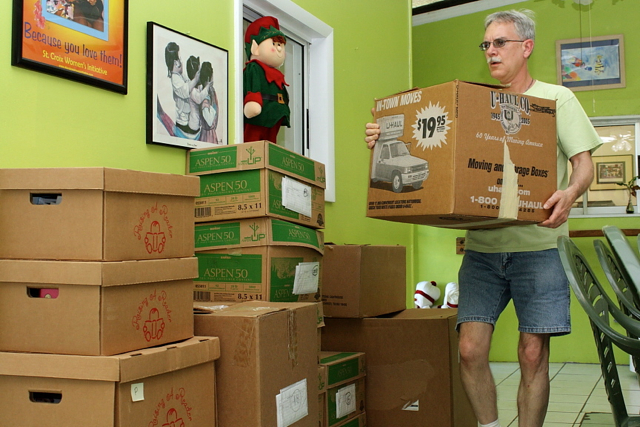 The 53rd Weather Reconnaissance Squadron, better known as the Hurricane Hunters, fly dozens of dangerous missions every year tracking severe storms that threaten America's coastline. But once a year their bulky, modified C-130 aircraft get to take a break from flying into hurricanes for an easier mission: playing Santa's sleigh for a handful of children on St. Croix.
The Hurricane Hunters are based in Biloxi, Miss., but during the storm season many of their crewman and mechanics are stationed on St. Croix so they can quickly respond to tropical storms brewing off the coast of Africa. Depending on how busy the season is, these airmen can spend months on the island, and some have begun to consider it a second home.
About five years ago, they decided it was time for them to give back. Senior Master Sgt. Paul Wood said it all started during a conversation he had with his wife.
"My wife, Pam, asked me what our unit was dong for St. Croix," he recalls. "And I said we aren't doing anything."
She encouraged him to find someway to make a difference on the island. He made some phone calls and was quickly put in touch with the Queen Louise Home for Children, which cares for children with disabilities, those who have been separated from their parents, or are waiting to enter foster care.
Wood put out the call for donations not just amongst the Hurricane Hunters but to every support unit within the 403rd Wing that works with them. The response was strong. The first year he collected boxes of books, clothing, and hygiene items.
The donation program has since become an annual tradition. Each year in December, as the unit is concluding its mission and leaving St. Croix, one of the planes sent to pack up their equipment is loaded up with gifts for the children at the Queen Louise Home.
This year Wood said he wanted to do something big for the home and asked them for a wish list of items they needed.
"They were reluctant," he said. Nothing on the list they gave him was very extravagant. "And I said, give me something bigger you need."
Eventually the staff told him that what they really needed was a commercial washer and dryer, but they didn't really expect Wood to come up with one.
They underestimated the generosity of the Air Force.
Wood put out the call for donations and the response was so strong that he not only was he able to order the washer and dryer, he also threw in an electric stove to boot.
Dianne Arthurton, co-director of the Queen Louise Home, said their relationship with the 403rd Wing has been a blessing and that Wood was now a member of their family. She said keeping the children under her care in clean clothes was no small task, and the washer and dryer were critically needed.
"We have to do the laundry practically ever day, so there's a lot of wear and tear on the washers and dryers," she said. "We've been having to cut back on doing as much laundry, because the dryer is just not drying anymore."
The new appliances were delivered Thursday afternoon along with 30 boxes a clothes and other donations, which Wood delivered himself.
He said he was happy to make a difference in the lives of the children at the home and promised to come back next hurricane season with another C-130 full of gifts.