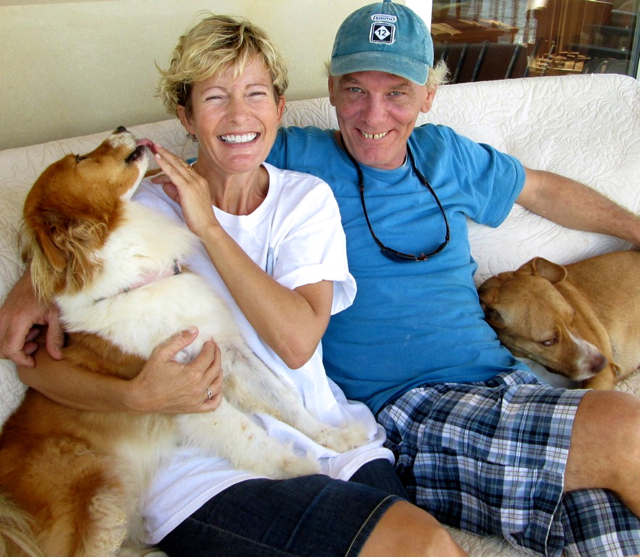 With an entrepreneurial spirit and a love of animals, Jen Dale and John Bullock saw a need they could fill. In the spring, they started St. John Pets, a dog walking and home pet care service perfect for people whose pets need attention while they're away.
"Our customers are people who love their pets," Dale said.
They charge $25 a visit and $25 for a two-mile hike with your dog.
They can get creative with pricing. For example, if your dog needs walking twice a day, you could opt for a mile hike in the morning and another mile hike in the afternoon.
"We can make it work," Dale said.
Since it's important to stick to a routine when it comes to pets, Dale said that two visits a day works best for dogs, but cats can get by with one. If Dale and Bullock already know your pet, you can call when you're stuck at work and they'll walk it.
"And we clean cat boxes," Bullock said, with Dale adding that they'll also water plants and drive customers to the ferry.
Both Dale, 43, and Bullock, 47, have other endeavors, but both are self employed and have flexible hours.
When she's not walking dogs, Dale is a market researcher working out of a home office to help her international array of clients with their research and marketing efforts.
After growing up in Berkley Heights, N.J., she graduated from Penn State University with a bachelor's degree in marketing and advertising and a master's degree in business from Rider College in Lawrenceville, N.J. She had a busy career in marketing at Phillips/Van Heusen before moving on the market research end on the business. It was at the start of the Internet escalation, and Dale was busy running focus groups and more on line.
"It was so awesome," she said.
The bottom was falling out of the business and, seeing the handwriting on the wall, she decided to move to St. John since she'd vacationed on the island and loved the tropical lifestyle.
Laughing, she told the tale of how she shipped down a satellite dish, for Internet connection, that was so big it had to fit on the roof of her car. She found someone to install it, but when all was said and done, she found the Virgin Islands was outside the area allowed by the Federal Communications Commission and she couldn't use it.
However, Internet service on St. John soon grew and she was able to start serving the customers who followed her from her old job. Since then, she also served as the Marketplace shopping center manager, but after leaving there she resumed her market research career.
Dale was also a volunteer at the Animal Care Center of St. John, but like most volunteers, she was overworked and after six years, backed off a bit to give others a chance.
"It's draining," she said.
Bullock hails from Riverside, R.I. After studying computer science at a community college, he realized that the kitchen was his real love. He started cooking professionally, and after he moved to St. John in 1997 worked at such high end restaurants as Chateau Bordeaux and Chloe and Bernard's.
After a stint in Colorado, he returned to St. John in 2005 and again worked as a chef. He now works as private chef with Chef Johnny B his trade name. On the side, he plays in the band called Locals on the 8.
When the two, who are a couple, aren't busy at their various endeavors or tending to pets for St. John Pets, they spend time cooking together and with their own six dogs, who arrived via the Animal Care Center's shelter or showed up at their door.
"Watson, Bella, Maggie, Rufus, Nugget, and Buddy," Dale said.
Those interested can reach St. John Pets by calling 1-340-779-7993.