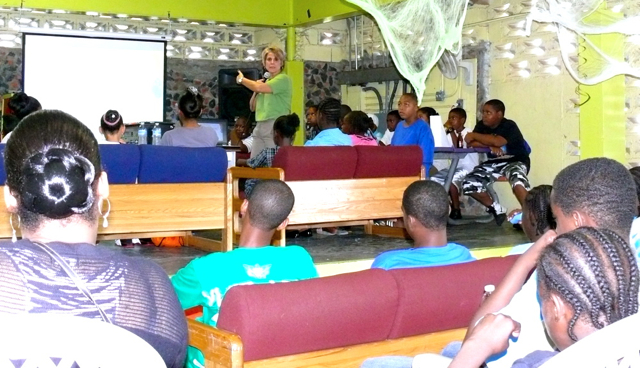 Be careful what you post on Facebook and the Internet, avoid strangers, don't bully and if you are bullied, tell someone – that was the message some folks from AT&T tried to impart to a few dozen children at the Boys and Girls Club of the Virgin Islands in St. Croix Saturday.
"Has anybody heard of cyber bullying?" MaryRose Sirianni asked the kids gathered in the Boys and Girls Club clubhouse in Christiansted. Most of the kids raised their hand. "Cyber bullying is happening everyday and you shouldn't engage in it. And let me just say, if you feel like you are being bullied online, don't hesitate to tell somebody," Sirianni said.
Sirianni, an AT&T official, came to St. Croix from Florida, along with Ray Flores out of Puerto Rico, to spread awareness of all the safety and security concerns that young boys and girls need to be conscious of. With help from local, St. Croix AT&T employees, they talked frankly about a range of safety issues, including texting and driving – as part of the company's Project Y-BALE, or Youth for Broadband Awareness Literacy and Education.
Kids from the Boys and Girls Club and children of parents in the Department of Education's Parent University, came out for the program, which AT&T is promoting across the country.
"You have to watch out for Internet predators when you go online," Sirianni said. "When you go online, do you alway know who you are talking to? Does anyone ever accept a friend request from people if you don't know who they are?" she asked.
"If they look creepy I don't accept them," said Iyahnna Hiss, 13.
"Maybe they told a little white lie about who they are, with their picture," Sirianni said, urging them to never accept unless they really know who it is. "You should make sure to set your profile to private," she said."If it is public, someone can start chatting with you like they know you." For instance, if your profile says you play football, they can talk about that and it will seem like they must know you, she said.
Don't make your password your first name, because someone could figure that out too easily,
Sirianni advised. And never post anything private or inappropriate online, she said.
"Inappropriate can mean a lot," she said. "Even just hanging around by the pool. If you post that without getting permission, your friends might get really upset," she said. "What happens online stays online how long?" Sirianni asked the kids.
"Forever!" they chanted back in unison.
Even if you delete it, there are copies still floating around, and everywhere from colleges you apply to, to jobs you apply for, will probably see them, she said.
She showed a video about texting and driving, with testimonials from young men and women who have been in serious, even fatal accidents, because they were texting.
"It was basically stuff I know already, but it really brought it home for me," Hiss said afterwards.
"They are just teaching us out to be more secure and safe about going online," said Miles David, age 15.
A few parents from Parent University sat through the talk with their children and grandchildren.
"A lot of us parents don't really know about cyber bullying and the risks our children face online, so this is important," said parent Julet Davis.
After the talk, the kids split up into groups, to write their own short skits, urging their parents not to text and drive, illustrating the importance of keeping Facebook profiles private and so forth. Then they recorded their skits and with some help from St. Croix Boys and Girls Club tech guru Garvin Powell and the AT&T folks, they recorded and edited short videos, which a panel of volunteer judges rated, awarding first, second and third place prizes.