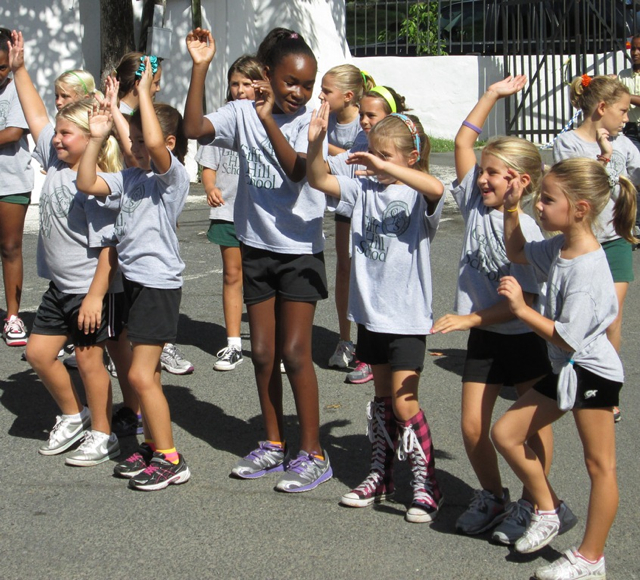 The Rainbow Dancers got their start as an afterschool program at Gifft Hill School, but they're already getting plenty of applause from the public. They danced Saturday at the U.S. Virgin Islands/British Virgin Islands Friendship Day celebration Saturday in Cruz Bay.
"They're so excited," instructor Liz Putnam said.
Putnam, also the school's gym and Spanish teacher, puts the students in grades two through five through their paces one day a week after school gets out.
"When I was younger, I always wanted to dance," Alex Glabath, 7, said as she waited for practice to start.
Each of the two groups has 10 girls and one boy participating. Putnam said some of them have been involved with the Rainbow Dancers for three years.
They practice hip hop, meringue, dances that involve ribbons and jump ropes as well as other dances, Putnam said.
The youths had different reasons why they liked dancing, but for Shekinah Abraham, 9, this was her first foray into the world of dance.
Katherine Majette, 7, and Ananada Hernandez, 11, both said they enjoyed it because they got to move around a lot.
Malena del Olmo, 7, and Adelaide Jones, 9, both took it a step further and said they liked to move their hips while Tierney Murrill, 6, said she enjoyed being active.
Having fun keep kept Skyler D'Abbraccio and Safa Monsanto, both 8, coming to the classes, but Safa said she also like spending time with teacher "Miss Liz."
Ciena Clendinen, 7, also enjoyed Putnam's company. When asked what dance she liked the best she agreed with Isabell Thill, 5, that the ribbon dance was the most fun.
Gabby Clabach, 7, and Georgia Ferrigno, 6, both preferred the hip hop, but Kaden D'Abbraccio, 7, liked jumping rope best.
Lily Margo Francis, 10, called the dances they learn cool stuff.
"And I really like performing," she said, adding that she plans a career in dance.
So do Kayleigh Emanuelson, 10, and Noah Gessner, 9, who added that he's also getting his exercise.
Emily Murrill, 10, also likes performing, but added she likes the "really fun" moves she learns in the class.
While the youthful dancers are delighted to perform in public, Gifft Hill's head of school, Judy Chamberlain, sees a bigger picture.
"It builds confidence and you can see on their faces, they're doing it out of passion," she said.
She said Putnam expects a lot from the students, and the students enjoy giving her what she wants.
Putnam definitely has the credentials to teach the students. A former professional dancer, this Venezuelan native danced and taught in Las Vegas, Los Angeles and Boston before moving with her husband, chiropractor Bern Putnam, to St. John in 1993.
She's still in the public eye, and usually leads a troupe in the St. John Festival Parade.
"I started dancing when I was little," she said, just like the students she now teaches.