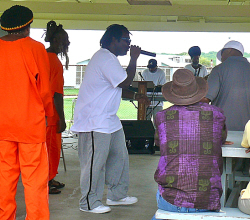 Singing of peace and faith, Golden Grove Adult Correctional Facility inmates interrupted the monotony of prison life Friday with a concert of original and reworked traditional songs, showcasing the fruits of a new music program at the prison.
Men in orange jumpsuits partly filled the two dozen or so seats set up in front of a makeshift stage and several dozen more looked on from around the prison yard, tapping their feet and sometimes dancing a little, getting into the gospel-infused reggae, calypso, soul and hip-hop rhythms.
"Some of the music is original, some of it is covers," said acting Bureau of Corrections director Dwayne Benjamin. "There are a lot of positive actions taking place behind these walls now," he said.
The program was a kind of music ministry, with inmates practicing in the prison's chapel, said Corrections Officer Juanita Griffith, who was tasked with overseeing the prisoners, escorting female prisoners to and from the chapel and making sure each group got its practice time.
One group of women calling themselves Females of Xcellence was a nondenominational Christian women's group that formed a gospel singing group, she said. Another gospel, calypso and reggae group, Uprising Band, had Muslim, Christian and nondenominational members, Griffith said.
Having watched the prisoners practice for the past six months or so, Griffith said she feels it is having a noticeable beneficial effect, giving them something to take pride in and look forward to that brings the inmates together.
As an example, Griffith pointed to Rinel "Cheeks" Ferdinand, a 29-year old man who has been incarcerated for 15 years so far on a murder conviction.
"Cheeks was irate, troublesome and full of rage," Ferdinand said. He did not get along with inmates, he got into fights, was uncooperative and refused to obey prison rules, she said.
"But finally he sat down and started working on music in the program and he just immediately calmed down," she said. "I don't think Cheeks has had an infraction for a year now," she said.
Cheeks had no music background at all. But with the Uprising Band backing him up, he performed several original songs, getting all the inmates to their feet dancing. When asked after his performance, he said much the same – that he had been filled with rage and anger, and had been unable to calm down.
"We were always on lockdown, sometimes for weeks or months at a time. So I wrote a song and sang it to pass the time, not seriously, and they said it was good," Ferdinand said. " I thought they were joking!"
He met with Chaplain Ludger Berkitt, who told him he could help with the music program, and started practicing and writing more, and working with the other inmates.
"Some of them had some music, but for the most part everyone had to learn from scratch. So they really worked at it," he said. The music brings the inmates together and lessens the tensions, he said.
"Normally everyone is in their own group. The Bloods don't mix with the Crips, this group doesn't mix with that group. But when we have a show everyone comes to our show. All-a-we is one prison then," he said.
Asked how he ended up in prison, Ferdinand said he got in a fight in school when he was 14, things escalated and he stabbed the other student, killing him. He was sentenced to 30 years in prison for the murder and has served 15 years so far, he said.
Michael Jackson, an older inmate who played one half of an electric guitar duet, also said he felt the program helped calm tensions in the prison, by giving prisoners something to do.
"We need more of this because isn't anything to do here," Jackson said. "There are education programs, but you see only two or three people in the class. They have to make it mandatory, he said. And they need to have a way for inmates to learn to work and to make a little money. And they need to fix the buildings," he said.
Jackson, incarcerated since 1984 on a murder conviction, had a little music experience. "But I only took it seriously after I was incarcerated," he said.
He took guitar lessons through a correspondence school while in prison stateside, and got good enough that now he teaches music theory to other inmates, he said. He also received a degree and learned accounting while in prison, and said he hopes to be eligible for early parole soon.
Before the concert began, Community Re-entry Program Coordinator Olu Massey gave out certificates to several older inmates, many of whom are serving life sentences, for helping younger inmates through the Awaken Mentoring Program. He said their age and their own personal growth while behind bars had made them invaluable in keeping the peace.
"You don't know the kinds of violence they have stopped in this facility. You don't realize the kind of peace they bring with their presence, just when they walk into the room," Massey said. "We need this kind of energy in the community directed to our young brothers and sisters who are confused and misled," he said.
Several prisoners also said the older mentors were a positive influence. Ferdinand credited them as much as the music, for his fairly recent change of heart.
The mentors "helped raise me," Ferdinand said. "I used fight a lot when I was younger. I was always filled with violence and anger, but they helped teach me how to deal with people," he said, crediting Dennis "Shabbaz" Blyden, who has been incarcerated for 31 years for murder, and Blyden's brother Daryl "Leviticus" Blyden, in eight years so far.
"I always call them my uncles; they adopted me," Ferdinand said. "A lot of kids outside need someone to adopt them and be their uncle too. It has to start there."