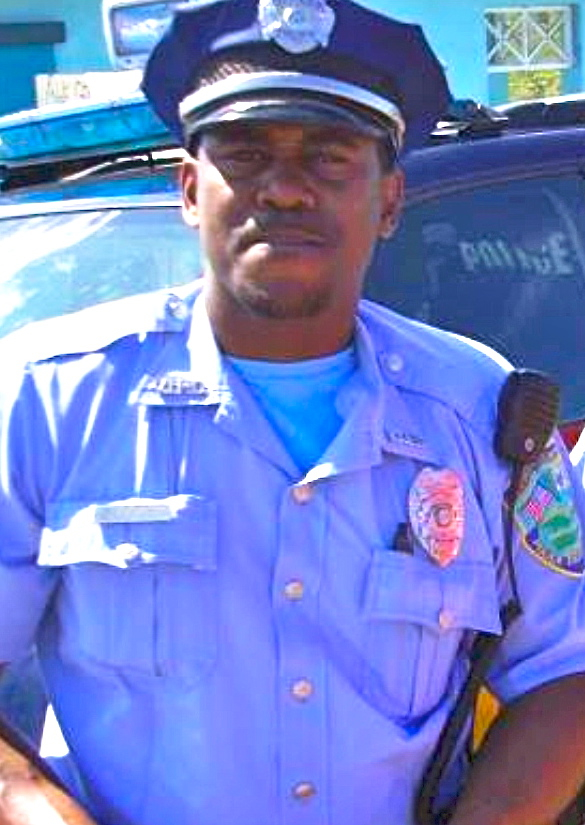 They called him father, friend, colleague, classmate.
They called him hero.
Colvin Georges, the Virgin Islands Police officer who died Sept. 29 from wounds received in a May 26 shooting, was laid to rest Saturday after a funeral that drew hundreds to the Digna Marie Wheatley Gymnasium at Ivanna Eudora Kean High School. Another 500 people tuned in on their comptuers to watch a live, streaming video.
The ceremony was filled both with sorrow and acceptance.
"His time with us was a lot shorter than we would have had it, but a source higher than us made that decision," said V.I. Police Commissioner Henry White, who called Georges "an exemplary officer" and called his death "a devastating loss."
"No one was more dedicated than he was to serving us and ensuring our safety," said Delegate Donna Christensen. "Duty, honor, service – those three words certainly represent what Officer Colvin Georges stood for."
The service conducted by the Rev. Damas Eloi of Living Word Family Ministries, mixed tributes from family members and public officials with performances by musical artists singing songs such as "I Was Here," "It's So Hard to Say Goodbye to Yesterday," "Pie Jesu" and the Bible classic, "How Great Thou Art."
Georges was more than a local hero, Christensen said.
"He is a hero to our nation," she said, drawing a round of applause when she said Georges name will become part of the National Law Enforcement Officers Memorial in Washington D.C. during a March 15 ceremony.
"Police Officer Georges' sacrifices and service are to be remembered and revered and given our eternal gratitude," she said, adding that Georges would be an inspiration to those who continue to fight "to take back our communities from the lawless."
Gov. John deJongh Jr. cautioned against second guessing or becoming bitter in the face of the tragedy, saying Virgin Islanders owed it to Officer Georges to act in a way that will serve others in the community.
"He gave his life protecting us," the governor said, citing the Scripture verse, "Greater love hath no man than this, that he lay down his life for another."
Sen. Louis Hill praised Georges' parents, Terrill and Orelia Georges, for the son they raised.
"You did your job. You brought into this world a fine young man," Hill said. "You have given us a wonderful man."
Eustace Grant, who was Georges' classmate when the two were members of Eudora Kean High School's Class of 1988, found comfort in the fact that they had been friends, no matter how painful the parting.
"You are gone too soon, but it is the creator that is in full control of this destiny," he said. "We trust that we will one day find peace knowing that you are in the hands of the almighty,.
Grant recalled that Georges had been one of those who marched on Government House as a senior to join the call for funding to build the gym where is funeral was now being held.
He also promised Georges' children – daughter Keshana Georges and son Colvin T. Georges Jr. – that they would never be alone. The Class of '88 would be there for them, he said.
"There is a lifetime of helping hands and warm hearts for you," he said.
Following the service, Georges was carried out by an honor guard from the V.I. Police Department and driven to Eastern Cemetery, where he was buried.
Arrangements were under the direction of Turnbull Funeral Home.