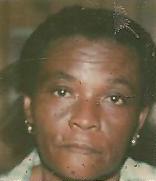 Ilma Rhymer dies on Sept. 19 at her residence. She was 86 years old.
She is survived by her daughters: Mary Alexis Rhymer and Janice A. Jeppesen; sisters: Isa England, Gloria Davis, Noel Jackson, Myra and Elise Downing; brother, Carl Downing; grandchildren: Helge "Papito" III, Lisette and Blair Jeppesen; nieces: Raquel Downing-Benjamin, Radmur Downing-Carty, Roxanne Downing-Lettsome, Laverne and Sara Dathan, Lisa Swan, Carmen England-Terry, Dr. Simone Heyliger, Laura Rouse, Julia Dessout, Carol, Stephanie and Geralyn Sylvester; nephews: Luis, Alfredo and Richard Sylvester, Leon Swan, Recaldo and Julian Dessout, Hugh and Albert Dathan.
She is also survived by in-laws: Melva Downing, Miriam, Avis, Rev. Can. Lionel S. and Riise Rhymer, Doris Georges, Cynthia DeCastro and Margaret Borde; special friends: Lisle Evelyn Sr., Eleanor Battiste, Elodia Fenner, Felecia Brownlow, Beverly Plaskett, Kathleen D. Mescus, Lucida Robles, Valencia Durrant, Bernice Harrigan, the family of Patricia Phillips, the Abraham, Berry, Kline, Millin, Roberts and Wallace families; as well as numerous nephews, nieces, cousins and other relatives and friends.
There will be a viewing held from 5-7 p.m. on Thursday, Oct. 4, at Davis Funeral Home. On Friday, Oct. 5, a funeral service will be held at 9:30 a.m. at All Saints. Interment will be at Western Cemetery No. 2.
In lieu of flowers, a special collection will be taken up during the service for the Memory Tree, where her name will be placed on a leaf in remembrance.
All arrangements are by Davis Funeral Home, 774-1464.