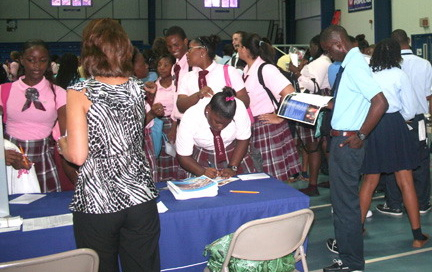 High school students on St. Thomas have a rare opportunity to learn firsthand about some of the country's most prestigious colleges and universities, without leaving the island.
Representatives from Harvard, Vanderbilt, Princeton and a host of other big name, top-drawer schools will make brief presentations and be available to talk to students during a series of mini-fairs sponsored in October by Antilles School and open to all public and private high school students.
Tuitions at such institutions can be more than daunting, but Chris Teare, director of college counseling at Antilles, urged students and their families to concentrate on what each institution has to offer, rather than on its cost.
"The last thing that people should worry about with these schools is the sticker price," he said. That is, if the student is near the top of his class and especially if he also has an extracurricular talent at which he excels. "The key thing about the top level schools … is they'll find the money" for scholarships and grants for truly exceptional students.
Teare encouraged any student who is "shooting high" – including those as young as 9th graders – to attend one or more of the sessions. It will give them a better understanding of what is available and might help them clarify their own goals as well as motivate them for the rest of their time in high school.
The series schedule is:
Thursday, 7:30 p.m. – Duke, Georgetown, Harvard, Pennsylvania and Stanford at Marriott's Frenchman's Reef Beach Resort.
Oct. 14, 3 p.m. – Vanderbilt, Princeton and Northwestern Universities at the Antilles School campus, either at Prior Jollek Hall or at the Kimelman Library, as posted.
Oct. 30, 7 p.m. – Brown University at Antilles School campus, Kimelman Library.
Sponsored asked students to register in advance at www.exploringcollegeoptions.org.
In addition to the special series, Teare said Ohio Wesleyan University has scheduled a program from 4 p.m. to 6 p.m. Oct. 14 at Bolongo Beach Resort to recruit V.I. students.
Antilles has hosted representatives from many colleges and universities in recent years, but Teare said "in my nine years here in the community this is the first time these three (Princeton, Vanderbilt and Northwestern) have been here."
Attendance at some of the more recent programs has been as high as 250, he said, and he's hoping for a big turnout at all the upcoming events.
In an attempt to get the word out to all students, Antilles sent notifications directly to island high schools as well as making media announcements.
"I have the luxury of being a specialist" in college counseling, Teare said, while guidance counselors at many other schools are juggling a wide range of responsibilities that sometimes leave them little time for assisting students in college searches. "As a society, we are all in this together … These kids are all our kids."