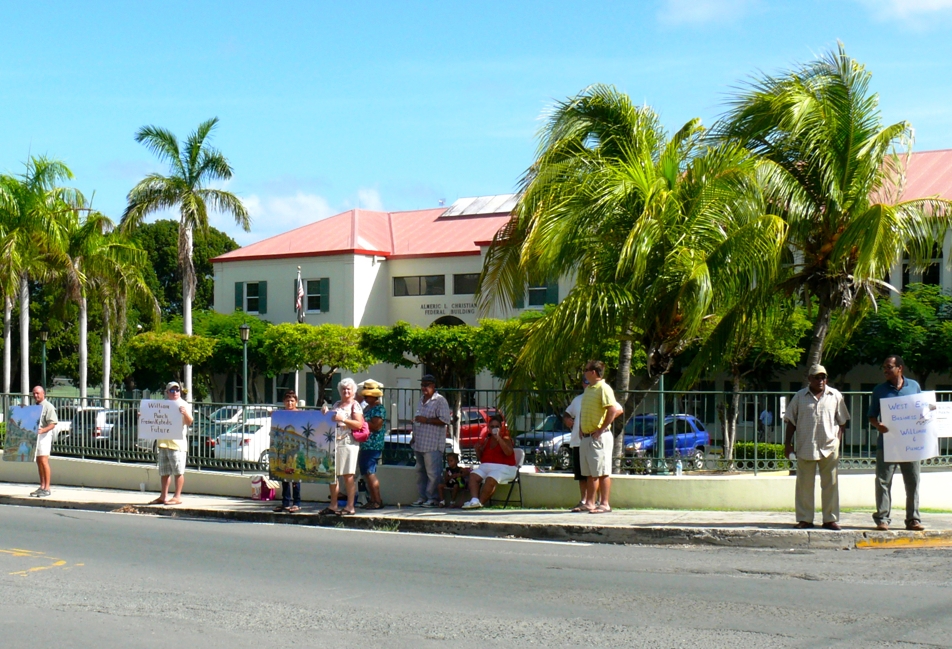 Protesters gathered Tuesday morning outside the Almeric Christian Federal Building in Christiansted to try to pressure federal officials to finish permitting for the long-awaited Williams and Punch resort development.
"We need jobs and can't wait forever for someone to act," said protester Marcia Hollins. "I've been on St. Croix for over 45 years and I have never seen it this bad. Everything is going higher and higher, and we just have to have some relief, some way to get some jobs back," she said.
The project, now being called Amalago Bay, would border Rainbow Beach on the south and Sunset Beach on the north. A total of 322 rooms are to be part of a main casino-hotel complex. Around that will be three swimming pools.
An 18-hole public golf course is to run eastward up into the forested hills of Estates William and Punch. Two channels from the sea are to be carved inland, creating a lagoon for a 64-slip inland marina. The channels and lagoon would create a small beach island connected to the resort by a bridge coming over the south channel.
A 56-room beach hotel is planned on the artificial island. The developers began the design and permitting process in 2006.
It has been well over a year since the developers submitted their U.S. Army Corps of Engineers permit application materials.
In February, St. Croix civic activist George Flores and a group of pro-development residents calling itself "We the People" held a town meeting and a protest aimed at getting the permit process moving along.
A single National Oceanic and Atmospheric Administration official has been delaying the Williams and Punch development by failing to submit comments for its U.S. Army Corps of Engineers permit for over a year, according to St. Croix resident and William and Punch local partner Chris Elliott.
Studies and documentation have been filed, objections answered, and the U.S. Army Corps of Engineers is ready to issue permits for the project, Elliott said. As part of that process, the Environmental Protection Agency, NOAA's National Marine Fisheries Service Habitat Conservation Division, and several other agencies are asked to submit comments. The comments can influence the Army Corps of Engineers, but are only suggestive and not binding upon it, according to the developers.
The permit process sets a time-limit for the agencies to submit comments, but one specific official at the National Marine Fisheries Service had refused to officially acknowledge receipt of the request for comments, preventing the deadline clock for comments from starting, developers said.
After the protest in February, Delegate to Congress Donna Christensen met with NOAA and EPA officials and was told the NMFS Habitat Conservation Division would submit its analysis of the proposed development's impacts to essential fish habitat by April 26.
But that deadline came and went.
"They asked for a 30 day extension and got it from the Army Corps of Engineers," Elliott said Tuesday. "They then said they needed more time and said they would have it by Aug. 31. Then that day came and went and they said they had new information on turtle nesting."
He continued, however, that it was not new information. "We had included it in our biological assessment," he said. "A handful of people in the federal government are impacting us in a very negative way."
Elliott said Flores contacted him about the delays, asking what could be done to push the process along, and he welcomed the help. According to Flores, the protest's timing and location were chosen because the NOAA official in question, who they said was one Lisa-Marie Carruba, was scheduled to be in a meeting in the Almeric Christian building that morning.
"We were there so she could get the message right up front and come out and talk to us to hear our concerns, but she never did," Flores said Tuesday afternoon after the protest.
Called Tuesday afternoon for a response, local NOAA officials said they would have information on NOAA's position regarding the permit on Wednesday.