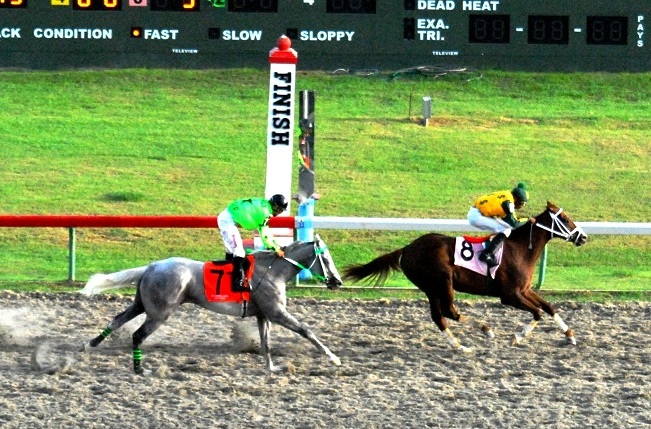 In a classic ride, jockey Miguel Sanchez aboard Sweet Sight of St. Thomas sat just off of a very hot pace set by two St. Croix horses, Puerto Rican Emblem and Gato Paso, before pouncing in the stretch to take Sunday's featured ninth race the Randall "Doc" James racetrack on St. Croix.
At the break it was Political Reporter that was quickest out of the gates, but Puerto Rican Emblem and Gato Paso quickly gobbled him up and set out with breakneck speed as they ran down the back stretch. They raced at record-setting times through seven furlongs that had many fans in the stands wondering out loud about just how fast they were going.
Political Reporter withered from the hot pace, and Sweet Sight picked up the chase around the far turn and began to gradually close on the front runners. Gato Paso gained the advantage at mid-stretch, but Sweet Sight with Sanchez in the irons was coming fast, gaining with every stride.
Gato Paso put up a valiant fight to the end but the early fractions got the best of him, and Sweet Sight was able to blow by for 1-1/2 lengths victory at the wire.
Puerto Rican Emblem held on for a fading third, with Black Jack Bob closing from well back for fourth.
Sweet Sight negotiated the one-mile distance in a time of 1:37.1 to take home the lion's share of the $7,000 prize money.
In the top Mares and Fillies eighth race, Turn to Gold continued to impress as she turned back a challenge from former champ, Leggy Blonde, to prevail by a length to win her second straight race since coming to the territory.
Turned to Gold stumbled in mid-stretch, which allowed Leggy Blonde to gain a small advantage, but jockey Sanchez was able to get her back on track and they rallied for the win.
Cash City was a distant third in the three-horse race.
Turned to Gold covered 7-1/2 furlongs in 1:32.2.
The rest of the day's results:
Race1 7-1/2 F Classes N-6, Jockey
Time: 1:39.1
1. Hilary Boss, S. Ortiz
2. King Yabo, A. Hernandez
3. JPD Yung, E. Barnes
Race10 7F Class I-5(M/F) & I-6, Jockey
Time: 1:26.3
1. Ten Storms (STT), C. Soto Jr.
2. Rey De Los Ricos, J. Hernandez
3. Robadorable, W. Hurst
Race3 7 ½ F Classes N-5, Jockey
Time: 1:35.3
1. Hanna Boss, S. Ortiz
2. Diamond Colony, E. Barnes
3. Joe Boss, W. Hurst
Race4 6 F Class I-4, (M/F) Jockey
Time: 1:32.2
1. Destiny's Arrival, C. Soto Jr.
2. Rasta Queen, W. Hurst
3. Apron Dance, B. Gonzalez
Race5 7-1/2 Class I-5, (C/G) Jockey
Time: 1:33
1. Turn to Win, W. Hurst
2. Simon Sez Run, S. Ortiz
3. Ala Cat, M. Rivera
Race6 6 F Class I-3, I-4 & I-5, Jockey
Time: 1:12
1. Winning Actor, B. Gonzalez
2. Green Sand, M. Sanchez
3. Formal King, W. Hurst
Race7 7 F Class I-3 & I-4, Jockey
Time: 1:26.1
1. Full house Project. S. Ortiz
2. El Hombre Grande, J. Guadalupe
2. Bruno's Burst, B. Gonzalez
Race10 7 F Open Race VI Bred, Jockey
Time: 1:28.1
1. Creation Rebel, S. Ortiz
2. Cruzan Emerald, E. Barnes
3. Express to Cali, A. Claudio