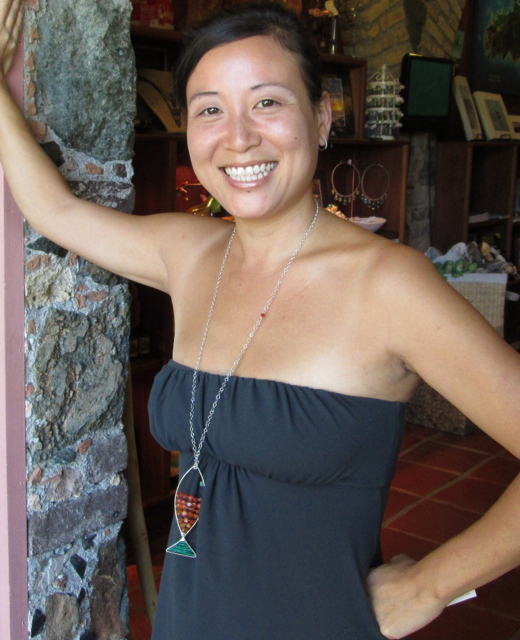 Nikki Ahladis, 34, had set her sights on a marine science career but adventure beckoned. A dozen years ago, she moved to St. John, and on Aug. 1 took over as the manager at the Friends of V.I. National Park store in Mongoose Junction shopping center after working in the store since January.
"I never thought I'd want a career in retail, but I'm loving it," Ahladis said.
Friends President Joe Kessler said Ahladis brings a lot of enthusiasm to the job, coupled with a good sense of style and merchandising.
"And she has the experience of having been in the store," Kessler said.
Like a lot of St. John residents, the Bellevue, Wash., native fell in love with St. John. While studying for a degree in marine biology from Amherst College in Amherst, Mass., she studied for a bit in the Turks and Caicos Islands. That whetted her appetite for tropical living, and the rest, as they say, is history.
"I fell in love with tropical life," she said.
And like a lot of those who moved to St. John from other places, Ahladis did a bit of this and some of that during those dozen years. She was a dive instructor at Low Key Watersports, did computer work for a local architect, and worked briefly in villa management. She settled in to the Banana Deck Restaurant, where she waited tables, tended bar, cooked, and served as assistant manager.
In one way, the Banana Deck jobs changed her life because that's where she met her husband, Demetrios Ahladis, when both worked there. They got married, her husband became the general manager of the Westin Resort and Villas Cruz Bay Prime restaurant, and they are now the parents of two. Kaya Sofia is five and Alexander, 2.
While she loves her kids and family life, she said it's good to have a job where she gets to interact with people. As the store manager, she does all the buying.
"I'm living vicariously," she said, laughing.
Ahladis is busying putting her own stamp on the store's merchandise, and said customers should look for an expanded inventory of works by local artists as well as new T-shirt designs.
She's especially proud of the store's hiking stick rental and purchase program. The hand-carved sticks with leather straps rent for $6 a day and sell for $65. She said all the proceeds from the sales and rental go to the trails and maintenance program at the park.
Letting people know about the Friends' store is a challenge but she said once the park shifted the Reef Bay hike sign up from the park Visitor Center to the Friends store, traffic in the store increased dramatically.
"It turned it around," she said.
She, staff and volunteers also sign up people for the Friends seminars, the gala and memberships, and provide information on Friends activities.
"We're the face of the Friends," she said.
According to Ahladis, the scope of what the Friends do is impressive, which she said adds to the enjoyment of her job.
The store gets much busier during the winter months, and Ahladis said she hopes those people who volunteered last winter will return this winter season.
When she's not on the job, Ahladis spends time with her family and growing organic tomatoes in "earth boxes." Enthusiastic about the gardening project, she said the boxes don't waste water and keep the minimal amount of fertilizer needed from running on the ground.
"We were getting 10-foot tomato plants," she said.
Indeed, she grew so many tomatoes she was able to supply restaurants with fresh-from-the-vine tomatoes that, unlike store bought ones shipped in, had taste and texture.
"It's like night and day," she said.