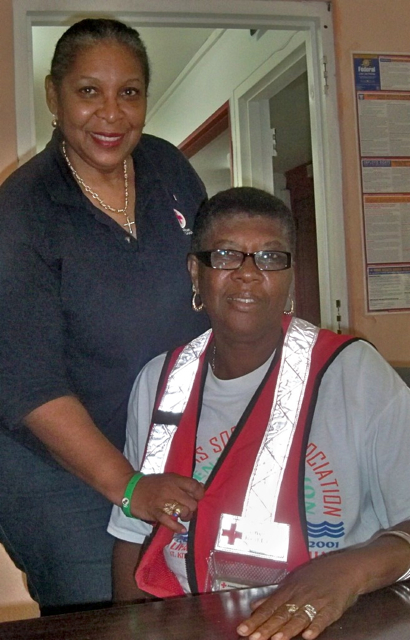 Marla Matthew appeared apprehensive being profiled and interviewed, but once she started to talk about her pet projects in the community she really opened up.
"I'm a very project-oriented person, and involvement in the community is important," Matthew said.
Matthew has been a Scout leader, tutor at Boys and Girls Club, an American Red Cross volunteer and more.
Her latest project is the National Alliance on Mental Illness program. NAMI is a family-to-family education program for those who have loved ones with mental illness.
"We work with families that feel the bottom has fallen out," Matthew said. "We want caregivers to learn to cope with loved ones in a crisis. And we educate them on how to maintain their personal energy and health to be able to take care of their loved one."
When Matthew speaks about family members and mental illness, it's firsthand. Her daughter, 40 years old, was diagnosed with post postpartum depression. Matthew said she is stabilized with medication.
"I'm blessed to be in this position to offer help," Matthew said. "It's a gift for my daughter to support her in her journey. This program is truly my passion."
NAMI courses began on St. Croix two weeks ago with a dozen locals participating in the 12-week program. The program supports and helps families learn about the latest treatment options, medications, resources and advocacy. More information about NAMI is available by calling Matthew at 340-690-5905
For 17 years Matthew was a volunteer for the American Red Cross on St. Croix. She said she got enthusiastic about volunteering for Red Cross after seeing volunteers give hurricane preparation training to students when she was the principal at Ricardo Richards Elementary School. In 1995, during Hurricane Marilyn, the Red Cross set up an emergency operation center at Ricardo Richards.
"I was impressed with the job volunteers did protecting us and the school," Matthew said.
For the past three years she has been the V.I. Red Cross Territorial Disaster Services director. In that position she oversees about 260 volunteers and coordinates disaster response. She does community outreach and education on preparedness and aids victims of house fires.
"The best part about working for the Red Cross are the volunteers that come out to assist others in a time of need.," Matthew said. The Red Cross is primarily run by volunteers, she added.
"The hardest part of the job is finding funding at this critical time in the economic crisis," Matthew said. "The Red Cross operates off donations. At this time we are reaching out and encouraging everyone to give. Sometime sooner or later we all may need the Red Cross."
Her motto is, "Help can't wait."
"No matter what leadership positions you have, everything that is done is because of the people you lead." Matthew said.
She is also active in the Alpha Kapa Alpha Sorority and has volunteered for Ten Thousand Helpers.
Matthew considers herself Crucian, even though she was born in New York. Her mother, Emeldo Matthew, a Crucian, moved the family to St. Croix when Marla was three. She said all of her recollections are of St. Croix. She attended St. Patrick's Elementary School and graduated from St. Joseph's Catholic High School in 1971. She got her bachelor's degree from the University of the Virgin Islands and her master's degree from the University of Connecticut. She started her career as a teacher at Alexander Henderson Elementary School. She retired from Ricardo Richards in 2005 and went on to be principal at St. Joseph's for four years.
"I was honored to be the first graduate of St. Joseph's to return and lead the school as an administrator," Matthew said.
As an assistant principal and principal for 25 years she gives credit to her staff for helping her to have a successful career in education.
Matthew said her journey has been influenced by many strong women leaders. Her hope is to be an influence on other women to reach out and mentor young women.