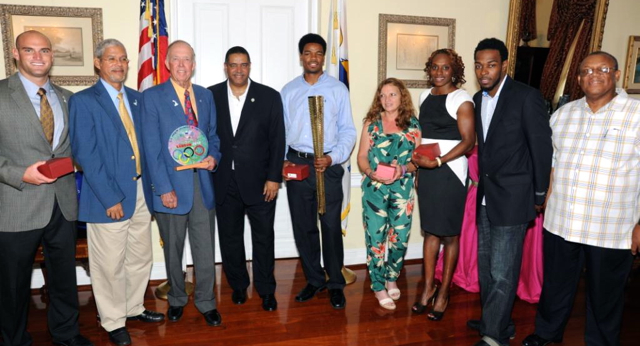 The athletes who represented the U.S. Virgin Islands at this summer's 2012 Summer Olympics and Paralympic Games in London were honored Saturday at a reception at Government House on St. Thomas.
"We are here today to honor eight young men and women who have reached spectacular heights on the track, in the water, on the open seas and on horseback," Gov. John deJongh Jr. said. "These eight Virgin Islands Olympians earned the privilege of competing against the best-of-the-best at the most prestigious and widely viewed sporting event in the world. It is a truly great accomplishment to qualify for the Olympics, one that can only come from years of hard-work and an unwaivering, almost super-human dedication. And because they were willing to push themselves to the limits of their endurance, because they persevered, because they gave of themselves more than anyone could have asked them to give, because they went to great lengths for the opportunity to challenge themselves in international competitions, for the rest of their lives, they will carry with them the rare distinction of being Olympians, and the pride of knowing they represented our territory at the highest levels of their sport."
The reception recognized Olympians Muhammad Halim, Tabarie Henry, Laverne Jones-Ferrette, Allison Peter, Mimi Roller, Cy Thompson, Branden Whitehurst and Lee Frawley. Also present and recognized at the reception were Virgin Islands boxers John and Julius Jackson and their father, boxing champion Julian Jackson.
Speaking of the Olympians, de Jongh noted that their paths to London couldn't have been more different.
"Some were veterans of the world's largest stage before, like Laverne Jones-Ferrette, who had competed in the 100- and 200-meter races at Athens and Beijing. Others took leaps of faith, like Mimi Roller, who took a year away from her college studies to travel the world competing in sailing competitions, and qualified for her first Olympics at the last possible opportunity to do so. Some are already ready to start training for 2016, like 20-year-old sprinter Allison Peter. Others are retiring from competition to set their sights on new goals, like 22-year-old freestyle swimmer Branden Whitehurst, whose next goal is to become a Navy SEAL."
The governor expressed the appreciation of the Virgin Islands community to this group of athletes and to those who preceded them in Olympic competition.
"Despite their varied sports, diverse backgrounds, and unique paths to London, this group of talented athletes, all inextricably linked to this territory and extremely proud to represent it, truly came together as a team this summer, and that is what inspired all of us back home the most. They supported each other, the veterans encouraged the younger athletes, and they formed bonds of friendship and camarderie that will last a lifetime."
DeJongh also noted another story that he said brought pride to this territory.
"Lee Frawley is a little older than the rest of our Olympians, but she is truly a member of our team. Lee's perseverence, her courage and the skills she developed as a child in the Virgin Islands led to an improbable, and ultimately pioneering journey to become the first-ever Virgin Islands Paralympian. While Lee lives in Surrey, England, not too far from the site of the games, her journey to the Olympics was the longest and most-challenging of any of our athletes. We thank her for representing our territory so well in her three para dressage events. We are proud of her ability to ride at such a high level after she sustained such a serious injury, and we welcome her back to the island where she discovered her love of horseback riding."
The governor said that when the territory sends athletes to international athletic competitions, they are expected to serve as our unofficial ambassadors.
"Most of the people our Olympians encountered in London – whether they were fans who travelled to cheer on their own teams, rival athletes from other countries, or just everyday Londoners – most of them had never met a Virgin Islander. Their impressions of our territory were formed through their interactions with those who represent it most visibly. And every one of our athletes and Olympic representatives made sure that they propagated a positive reputation for all their fellow Virgin Islanders."
The athletes have also served as a model for the next generation of athletes, the governor said.
"Back home they have inspired the next generation of young Virgin Islanders ready to commit to their dreams and give all they can to reach such incredible heights. Everyone of them is a role model to the children that are now attending the same schools, members of the same clubs, coming up through the same teams and organizations, playing on the same fields," he said. "Now I realize that most of you are not yet ready to relinquish your spots on our Olympic team, that the majority of you have already set your sights on 2016 and Rio de Janeiro. But I suspect that thanks to your achievement and the fine examples you have set, there are many younger boys and girls who are already wondering if they can break your records and blaze their own path to Olympic glory."
The leadership of the V.I. Olympic Committee was also praised, especially retiring VIOC President Hans Lawaetz and Treasurer Leonard Bonelli, Sr.
"They have worked hard to provide our athletes an invaluable opportunity of representing our territory at international sporting events. For 46 years, the VIOC has been a major force in the promotion and development of the territory's athletes, and a grateful community acknowledges these tremendous efforts," de Jongh said. "There is no doubt that the retirement of Mssrs. Lawaetz and Bonelli, as stalwarts and champions of our athletes, is the historic passing of the torch but I am comfortable knowing that the flame will continue to provide light to the next generation, he added.