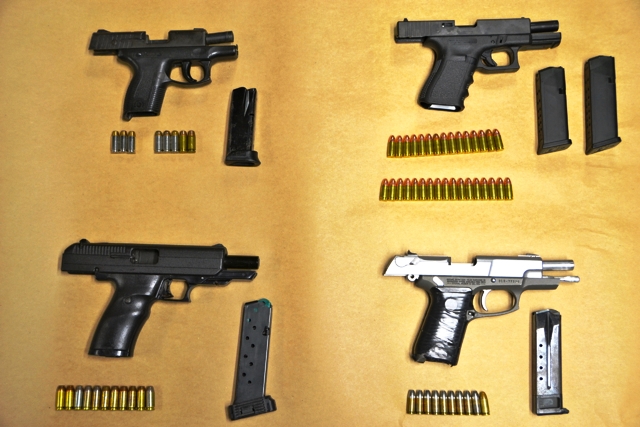 Police confiscated four loaded illegal weapons and a magazine that were concealed in an area where police were searching on Saturday.
The weapons were found after residents in Contant Knolls told police several men had weapons in plain sight. The Special Response Team immediately reported to the scene.
Police received the call from 911 emergency dispatch at about 2 p.m. Saturday. According to the police report, members of the Special Response Team detained several men who fit the description given by 911 and checked to see if they were carrying weapons. Police then inspected the area around where the men had been seen and discovered the weapons.
Two weapons were found in the rear of one of the apartment buildings under some plywood. In the same area two more weapons were hidden under a black shirt.
Police confiscated the weapons, which were identified as a P89 9mm loaded with 10 rounds of ammunition, a Taurus .40 caliber with seven rounds, an Austria Glock loaded with 17 rounds, a High Point .40 caliber with 11 rounds, and a 9mm Glock magazine loaded with 17 rounds of live ammunition.
St. Thomas/St. John Chief of Police Darren Foy said he was pleased to have four more weapons off the streets of St. Thomas.
"That's four weapons that cannot hurt anyone anymore," he said. The chief congratulated the officers for their thoroughness in investigating the area and locating the weapons despite the attempt by the owners to conceal them. The chief also thanked the residents who called 911 in an attempt to keep their community safe.
"They are the real heroes," the chief said. "They may have saved several lives by telling police what they know."