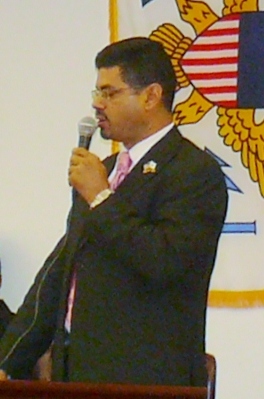 The Senate approved a controversial bill Monday to grant federal law enforcement officers peace officer status, granting them authority to arrest suspects with probable cause for violations of local law.
The bill was special ordered onto the Senate's session agenda Monday, bypassing the committee process. It has been before the Senate in several forms over the past few years, and its sponsor, Sen. Sammuel Sanes, tried to have it placed on the last session agenda a month ago, but the Senate instead sent it to committee.
Earlier this month, opponents of the bill prevented a committee vote by walking out on the hearing and preventing a quorum.
Senators approved the measure Monday, after heavily amending it to address concerns about permanently ceding control to the federal government and granting unfettered immunity to federal agents without recourse. The Senate first adopted an amendment in the nature of a substitute – a replacement bill with new text – from Sanes, qualifying the nature and duration of the status to be given to federal agents.
Sanes' amendment made peace officer status for any federal agent expire automatically after one year, unless renewed by the police commissioner. It also mandates an orientation or class for federal peace officers on V.I. law and culture. And there must be semi-annual meetings to discuss the status of the program and whether it should be continued.
Supporters and opponents alike agreed that federal agencies and officers have at times run roughshod over local institutions and officials. Supporters argued that was not a reason to reject the prospect of more federal help at a time of out-of-control violent crime, while opponents warned granting the authority would be difficult to undo.
Sanes, Sens. Celestino White and Carlton "Ital" Dowe, who have supported the measure from its inception, argued it would ease relations with federal law enforcement and bring more resources to bear on the problems of crime in the community.
Opponents raised three principal objections: the aforementioned perceived disrespect from federal circles; that the federal government had failed in its obligation to enforce the borders and keep guns out, so in retaliation the territory should not grant peace-officer status; and that someone from the federal government should have testified in support of the bill if it is something they support.
"If you take a bit of a sandwich and you don't like it, do you take another bite while you are still chewing on that first bite?" Richards asked, presenting the sandwich as a metaphor for the federal government.
"Perhaps our greatest problem here in the Virgin Islands remains the weapons and drugs that pour through our borders – this is what the federal government is supposed to focus on and these are all violations of federal laws, yet we don't even have a postal inspector," Malone said in a statement explaining his opposition to the measure. "The federal emphasis needs to be on border control and it's currently sorely lacking," he said.
Sen. Nereida "Nellie" Rivera-O'Reilly said she opposed the bill previously, but felt the amendments addressed concerns enough and that the severity of violent crime in the territory's streets was such that drastic measures were needed. "We can always rescind it later," she said.
The Senate added two other amendments proposed by James. One added the word "reasonable" a second time, placing it before the word "force" so the bill now reads: "a federal law enforcement officer acting pursuant to this section may use any reasonable force which the officer reasonably believes to be necessary to defend himself."
James' other amendment removed a section that made federal agents the legal equivalent of V.I. government employees for insurance purposes.
Voting to send the bill, as amended, on to Gov. John deJongh Jr. for signing were: Sanes, Dowe, James, White, Rivera-O'Reilly, Sens. Craig Barshinger, Louis Patrick Hill, Ronald Russell and Patrick Simeon Sprauve. Voting nay were: Richards, Malone, Millin-Young, Sens. Alicia "Chucky" Hansen and Terrence "Positive" Nelson. Sen. Alvin Williams was absent.
Sanes was conciliatory after the vote, saying only that he was "glad a majority of his colleagues decided to support this," and had been and "remain willing to amend this to address any legitimate concern."
Sanes said he would check with legal counsel to see if removing the passage giving federal agents equivalent status to V.I. government employees created any difficulties, but if so, he said those concerns could be addressed later.
"The core concept of the bill remains: peace officer status and the protections that provides," he said.