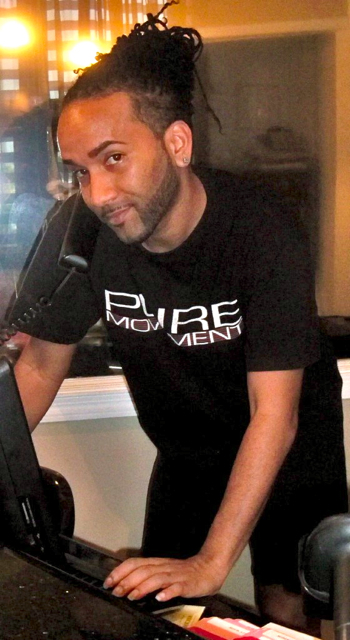 Crucian Alex E. Simon, artistic director at Cruzan Dance Center, is preparing for his tenth season as a dance teacher on St. Croix. He will begin prepping his dance students this week for a huge, end-of-the-season show in June. Simon is calling the show "Simply the Best" which will include the best pieces from the years he has taught and choreographed dance locally.
Simon decided to pursue his dream of starting a dance company and teaching dance after performing at Reichold Center on St. Thomas with the Koresh Dance Company of Philadelphia. Simon resided as a principal dancer under the direction of Ronen Koresh. While the Koresh Dance Company was visiting in 2003 Simon taught a master class with more than 75 dancers.
"This was the biggest recorded master class they had ever had with a visiting dance company," Simon said. "I saw there was a need for dance instruction. This prompted me to really think about coming home and starting to teach dance. And giving back to my community at the same time."
In 2003 with the help of grants he founded Cruzan Dance Inc., a nonprofit organization. In 2008 the name was changed to Cruzan Dance Company. In 2006 he started his own company, called Cruzan Dance Center.
Simon, who has the perfectly toned body of a serious dancer, teaches diverse dance disciplines at the center, enabling dancers to be well rounded. Ursula Foster and Simon teach ballet, jazz, modern dance, hip hop, salsa and more to students ages three and older. The classes are from 4 to 8 p.m. Monday through Friday, September through June.
Simon, who will be 32 in November, began his stage career at 12 when he played Puck in "A Midsummer Night's Dream" at Island Center. He says he was active in the performing arts while he attended Elena Christian Junior High and St. Croix Central High School. When Simon was 13-years-old he started his dance training at Pointe Dance Academy in La Grande Princesse.
"The first day of lessons I fell in love with dance," Simon says. "So many doors opened for me from then on."
When he was 14 he received a scholarship to study at Ballet Concierto de Puerto Rico, and at 15 he got a scholarship for the summer intensive program at the Joffrey Ballet School in New York City. He studied dance education at at the University of the Arts in Philadelphia, Pa., where he earned a teaching certificate.
He has danced professionally with Eleone Dance Theatre and Koresh Dance Company, taught classes at universities and dance schools throughout the United States, and continues to expand on his extensive choreography credits.
He performed for Patrick Swayze in the "Patrick Swayze's Dirty Dancing Celebration" at the Annenberg Theater in Philadelphia before the actor died in 2009. He was a guest choreographer for the NBA Miami Heat Dance Team this year and in 2010.
Simon said he has worked with internationally recognized choreographers, including Donald
Byrd, Milton Meyers, Robert Battle and Abdell Salaam of Forces of Nature Dance Company in New York. He has served as a guest choreographer for the V.I. Hal Jackson Talented Teen Pageant numerous times.
Simon launched Miss Urban Teenz International Scholarship Competition. He also started the Caribbean Modeling and Talent Association with the primary focus on marketing Caribbean talent globally on a competitive level. He is currently working on launching his line of fashion dance wear to be sold in stores and online.
Simon, who has a friendly and outgoing personality, says he is extremely spiritual and his talents are a gift from God.
"I have this ability for dancing and teaching that the Lord has given me," Simon said. "At times it has been a trial. He has tested me. There were days when I thought I'd give up." Simon said the Lord will direct what he will do in the next ten years. "I see doing a lot better and a lot more with the Cruzan Dance Center."
"I can't believe how quickly the years have passed since I began teaching here," Simon said. "It's been great seeing the little ones grow into dancers. And it's been great seeing how Cruzan Dance Center has grown."
The Cruzan Dance Center is at 41 Castle Coakley on the Hess Road on the second floor of the former Good Year Tire building. More about the center, including the schedules of classes, can be found online at www.cruzandancecenter.org, a site Simon designed and maintains, or by calling Simon at 1-340-713-2623.