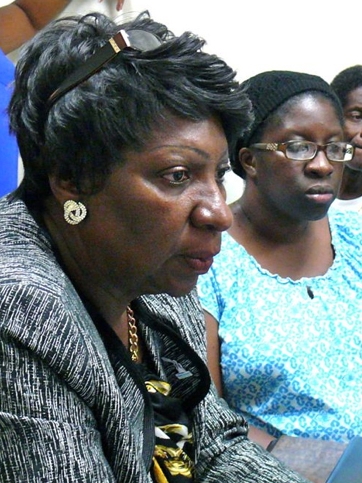 The V.I. Elections Office rejected a challenge to Sen. Alicia "Chucky" Hansen's eligibility to run for V.I. Legislature, concluding the sitting senator's 2009 three misdemeanor tax convictions do not qualify as a "crime of moral turpitude," according to a statement from Elections.
Hansen was convicted in 2009 of three counts of failure to file tax returns, after a long investigation related to improper influence and public corruption in the handling of a government sewer contract.
Former government officials Ohanio Harris, Ashley Andrews and Campbell Malone were sentenced to prison for their role in the scandal. Hansen was initially charged with conspiracy, fraud, accepting a bribe and conflict of interest violations. Several of the charges were dropped prior to her trial, and a jury acquitted her of the conflict of interest charge (See related links below). She was later convicted and sentenced to probation for the three much less serious misdemeanor offenses of intentional failure to file a tax return.
Colleen Clarke, head of V.I. Action Group, a citizens group based on St. Croix, filed a request Aug. 16 asking the V.I. Joint Board of Elections for an investigation into Hansen's eligibility.
Joint Board Chairman Rupert Ross, who also chairs the St. Croix board, responded the following day, saying V.I. Code gives the supervisor or deputy supervisor of elections authority over the question of eligibility and the St. Croix board had previously determined it had no jurisdiction over the status of a sitting senator.
The St. Croix board appointed Public Employee Relations Board Zandra Petersen as hearing examiner to gather testimony, which Petersen did, presenting it to Supervisor of Elections John Abramson and Deputy Supervisor James Weber II.
Hansen's attorney Amelia Joseph and V.I. Action Group's attorney, Yohana Manning, agreed on little, but both agreed the question of Hansen's eligibility hinges upon whether or not Hansen's misdemeanor convictions of a failure to file tax returns constitute "moral turpitude," which is not defined in V.I. law – and Abramson's decision hung upon this question.
The Organic Act of 1954, which functions as the U.S. Virgin Islands' constitution and defining legal document until the territory approves its own, bans those convicted of "a felony or of a crime involving moral turpitude" from serving in the Legislature.
Ruling Hansen to be eligible, Abramson concluded the lack of a definition of "moral turpitude" in either the Organic Act of 1954 as amended, or in the V.I. Code, was an important fact in rejecting the challenge to her candidacy [Order: Clarke V. Senator Hansen].
Another factor Abramson cited as influencing his decision was the fact that no court has notified the Board of Elections of any conviction that would result in the loss of voter privileges. Mirroring code in most U.S. jurisdictions, V.I. law requires courts to notify the registrar of elections when a candidate is convicted of a crime that results in the loss of voting rights.
Abramson also found it relevant that the St. Croix District Board of Elections affirmed Hansen was eligible to register and hold office by a majority vote Dec. 22, 2011, and that Hansen presented a valid nomination paper for the Nov. 6 General Election.