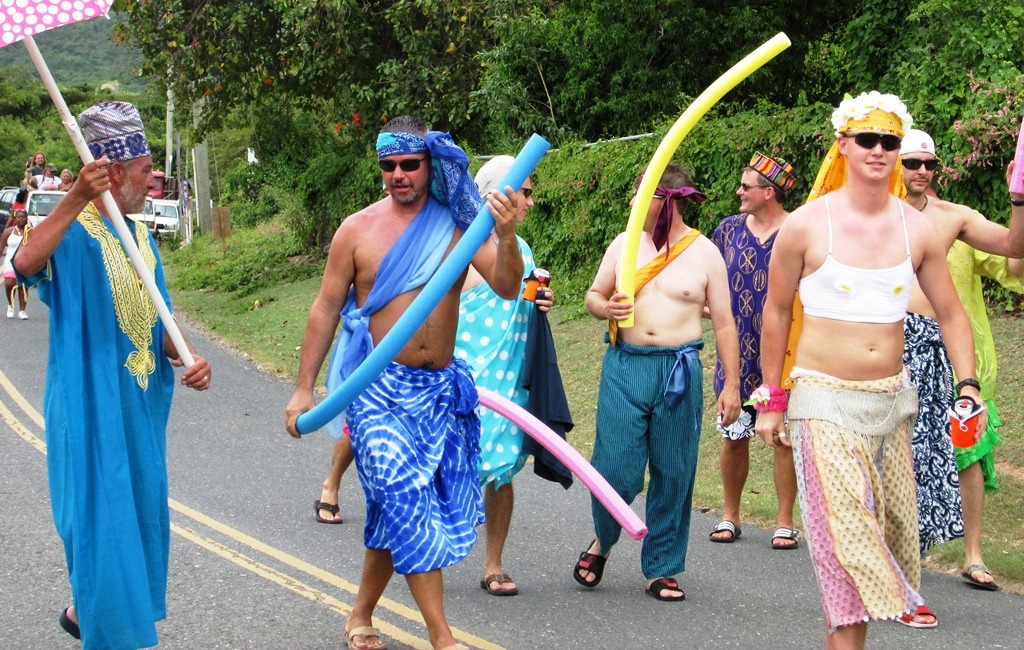 The number of sheep strolling through Coral Bay before the annual Labor Day Parade began outnumbered the number of people actually in the parade, but spirits were high nonetheless.
"It was the quality, not the quantity," Alvis Christian Jr. said, as he helped out at the John's Folly Learning Institute food table.
Perhaps a bit tongue in cheek, Christian said he'd never seen a better parade.
"I'm speechless," he said.
The parade had only a handful on entries, mostly ad hoc groups that came together for fun. A group of more than a dozen Cincinnati residents on vacation in Coral Bay cobbled together some costumes and carried swimming noodles to march with a few home-grown groups.
"We're the party heartiers," Ed McCarty of Cincinnati said.
A carful of Coral Bay area residents showed up and Megan Olsen declared, "We're the music car!"
A group from John's Folly Learning Institute marched together in their red T-shirts.
"It's just a little advertisement," Pam Love said when asked why the group was on hand.
Three strong, the Love City Leapers jump rope team showed their stuff as they made their way through Coral Bay's main road.
About a dozen people sent up tents to sell their wares near the intersection of Centerline Road and Route 107 and on the Coral Bay ballfield.
John's Folly Learning Institute held a pig roast, the first ever at the Labor Day Parade and party, Christian said.
Jane Johannes, long the grand dame of the parade, recruited a slew of her children to help her sell her traditional lobster. "And conch in butter sauce," she said.
One of her children, Darwin Newton Sr. of St. Thomas, called his mother a cultural bearer. "And don't all kids help their mother?" he asked.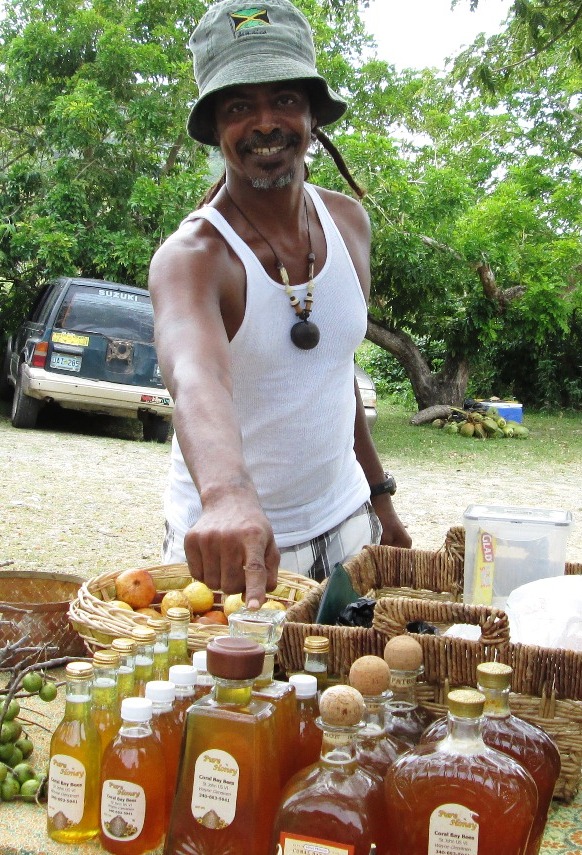 Wayne Clendinen had his table filled with local fruits, drinks and Coral Bay-grown honey.
"It's all organic," he said.
Nearby Yolanda Morton and Joyce Hrebick sold their handcrafted items. Among their items, Hrebick had Christmas tree ornaments made of shells. Morton's table included lots of jewelry and a sand-filled lizard useful as a door stop.
Morton complained that the VITRAN bus didn't run on Labor Day, saying she had some friends from St. Thomas who wanted to attend, but paying for a taxi from Cruz Bay to Coral Bay was too expensive.
Among those gathered here and there to watch the parade, St. Thomas resident Robert Thomas, who has his roots in St. John, made the trek with family and friends. They had the perfect spot for waiting to see if the parade would happen – under a shady tree on the Emmaus Moravian Church lawn.
"It's a day of relaxation," he said.