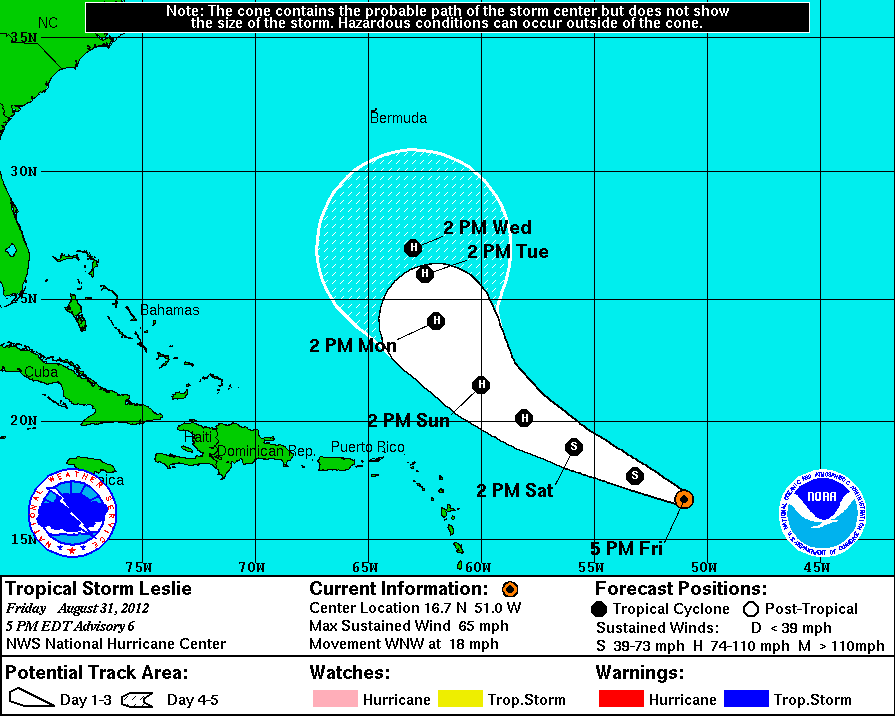 It still looks good for Tropical Storm Leslie to miss the Virgin Islands when it passes 350 to 400 miles to the northeast Sunday into Monday as a hurricane, Felix Castro, a meteorologist at the National Weather Service in San Juan, said Friday.
He said swells are the main concern. St. Thomas and St. John should see the seas start to build to 6-7 feet on Saturday, Castro said, adding that by Sunday they should reach 8-9 feet.
As for rain, Castro said it doesn't look like the Virgin Islands will get much out of Leslie.
"The associated showers will stay north of the islands," he said.
While forecasters are confident about Leslie's path, Castro said residents should continue to pay attention to forecasts. Castro said Leslie could move slower than expected or move a bit to the south, which could change the forecast for the Virgin Islands.
"But right now there is a big trough of low pressure east of the United States. We expect it to become stronger and it will pull Leslie to the north," Castro said.
As of the 5 p.m. update from the National Hurricane Center, Leslie had winds of 65 mph with higher gusts. Tropical storm force winds extend outward up to 90 miles from the center of the storm. Forecasters expect the storm to strengthen into a hurricane over the weekend.
Leslie is moving west-northwest at 18 mph.
The storm was centered at 16.7 degrees north latitude and 51 degrees west longitude, which puts it 715 miles east of the Leeward Islands.
The barometric pressure stands at 999 millibars or 29.5 inches.
As for Hurricane Kirk, it's located more than 1,300 miles to the northeast of the Virgin Islands and poses no threat with its 90 mph winds.