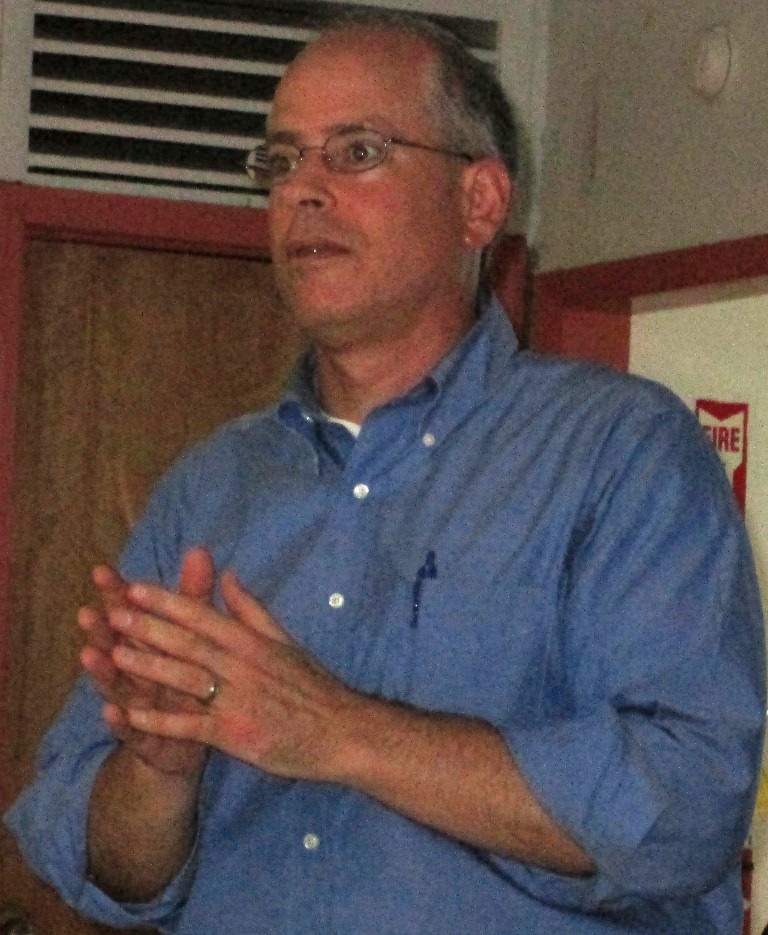 If the St. John community likes the idea, the V.I. Energy Office plans to push for the development of small solar plants across the island that will sell electricity to the V.I. Water and Power Authority. Collectively, they could produce enough energy to provide 25 percent of St. John's needs.
"It's not a done deal," said Energy Office Director Karl Knight.
The small solar plants are not the same as net metering, a WAPA program utilized by homeowners who install solar panels on their roofs to reduce or eliminate their electric bill.
Many of the nearly 50 people who attended a meeting Thursday at St. Ursula's Multipurpose Center already are solar aficionados. Some are involved in selling solar systems, others have those systems on their roofs and still others are long-time supporters of alternative energy.
The Energy Office brought in the Palo Alto, Calif.-based nonprofit Clean Coalition to help facilitate the project, and Director Craig Lewis said he hopes to make it a model project.
"We're working on St. John because it's small enough," Knight said.
Except for the very few people who produce their own solar electricity, St. John's electricity comes via submarine cable from St. Thomas.
"When the grid goes down, it's not good for business and for the hospitality industry," Lewis said.
Knight said the project would help stabilize the island's fluctuating power supply, and WAPA Director Hugo Hodge said it would reduce energy costs by 3 to 5 percent.
Clean Coalition set a goal of having the system up and running by the end of 2013, thus Lewis said it must quickly identify places where developers will install solar plants and set the first quarter of 2013 as a target date for having the contracts out.
He showed a few examples, including the Marketplace Shopping Center, where a developer could lease the roof and parking lot space to install solar panels. Investors would fund the project.
"We've got lots of investors. We can bring outside parties to make this happen," Lewis said.
If the owner of the property had deep enough pockets to pay for what is essentially a small solar plant, Lewis said the owner could then be the developer and owner of the project.
According to Lewis a grant from the federal Economic Development Authority will pay for the storage batteries.
Lewis said the solar plants collectively would have to produce 11.6 megawatts of solar power to make 25 percent of St. John's power.
While most of those who spoke expressed support for the project, they pointed out potential problems.
St. John resident Alan Smith, who once served as the Planning commissioner and is now a magistrate in Superior Court, said he's seen all kinds of projects come and go.
"Things tend to stall here. They look good, but the legs are cut out from underneath them," he said.
Others wondered where all the rooftops or land would come from to place the solar panels. Jeff Smith, who owns Solar St. John solar company, said it would take 20 to 30 acres of land. Given the fact that more than half the island is owned by V.I. National Park, there isn't much land available.
To comment, call the Energy Office at 713-8436 or 714-8436 or email Knight at karl.knight@eo.vi.gov. For more on the Clean Coalition, visit www.clean-coalition.org.