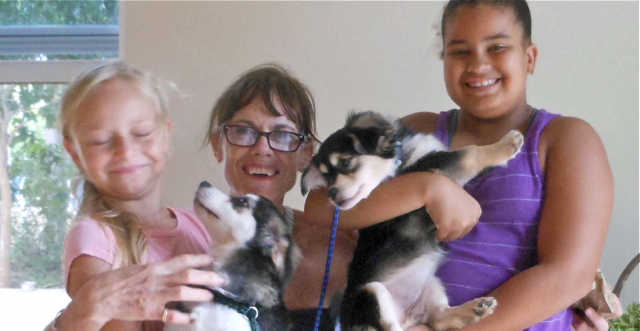 No drum rolls, no hats and horns, no speeches. Just lots and lots of people – kids, families, grandparents – as the Humane Society of St. Thomas Animal Care Campus officially opened its doors to the community Sunday and got to work.
And that's just the way society president Andrea Martin liked it.
"This is how I've envisioned this day," Martin said, taking a minute out of sorting clothing in the No Flea Boutique. "I've always imagined our campus as a place for the whole community to use as its own, to bring the kids, to use the courtyard, to visit the animals, shop in the boutique, and generally just enjoy themselves."
That was the case Sunday. A couple of hundred folks worked their way ariound the new facility, but the campus didn't seem at all crowded. Society stalwart Joseph Aubain, veteran of more struggles than he can remember, said simply, albeit with a big smile, "I'm relieved, just so relieved."
By about noon, Aubain said the volunteers had conducted somewhere between 80 and 100 campus tours. Aubain stepped down from his 10-year run as president last year, though he retains his position as chairman of the Humane Campus committee
It's been a long haul since ground was broken in 2005, when it was estimated the project would be completed in 18 months. But then, the realities of life got in the way, construction problems financial setbacks. Six years later, at a cost of $8 million, Aubain is a happy man. As are all the volunteers, almost all of whom were there Sunday, guiding tours, staffing the boutique, and releasing doggies and cats to new owners, the most exciting transaction that takes place at the shelter.
Beth Downey is one of those new pet owners. She had her hands full Sunday managing two new puppies somewhat less than a year old.
"They are sisters," she said, as the pups vied for her attention, jumping in her lap. "I wanted two, so I wouldn't have one home alone when I' m at work."
"I haven't had a dog since my last one died about five years ago, but I decided today the time is right," Downey continued.
The pups are of indeterminate lineage, but Downey and the kids surrounding the pups agreecd they looked like miniature huskies.
"Oh," Downey said, "I got a cat, too, a polka dotted cat. Here," she said, pulling out her phone, "see, all polka dots, black and white. I'm going to call her Kusame after the Japanese artist who uses polka dots."
Ten-year volunteer and interim manager Rhea Vasconcellos was as enthused as anyone else, but she cautioned this is just the beginning of a new era.
"Every cage here in the dog area is full," she said, "50 dogs, and at least 12 puppies, eight in one cage, six in another. And it's the same in the Cat Cabana, though several kittens are foster-homed right now."
"And every one of these animals needs a home," she added.
At the end of the day, it turned out that four dogs and eight cats had found new homes. Vasconcellos said until the end of the month, spay and neutering are one-half off: dogs $55, cats $37.50. The fee also includes vaccinations and a micro-chip, she said.
The campus is in need of dog-walkers and dog bathers, Vasconcellos said.
"We need volunteers for everything, clerical work, running errands, working in the boutique."
Vasconcellos can be reached at 643-0796.
Martin wants the community to use the nicely appointed courtyard for events.
"It's great for parties, student class trips, for organizations," she said. "It's a real multi-use area."
The Humane Society can be reached at 775-0599. The campus is open from 9 a.m. to 4 p.m. every day except Thursday. The Boutique is open from 11 a.m. to 3 p.m. Wednesday, Saturday and Sunday.
A virtual tour of the campus is online at http://www.hsstt.com/about.htm