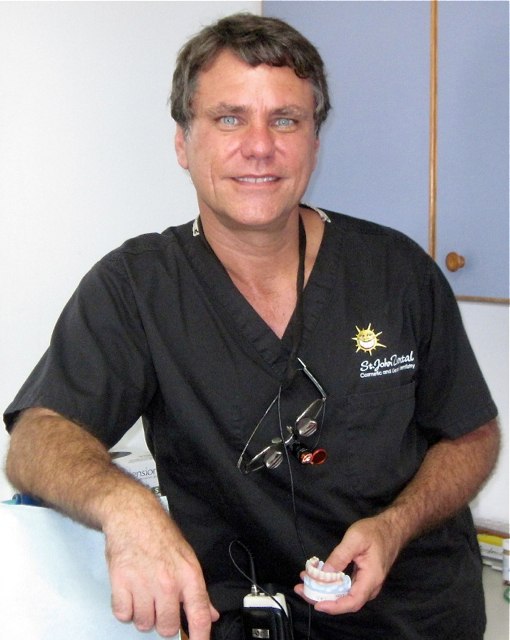 If you're in pain or have an emergency, Dr. John Purpura at St. John Dental will see you that day, he said.
"We alleviate that pain," he said.
He said he often sees visitors who lost a crown while snorkeling. Laughing, he said some tell tales of diving down as deep as they can to retrieve the crown. He said it's likely the crown was wearing out and the snorkel tube dislodged it.
Purpura bought the dental practice, located at the Boulon Center, from Dr. Robert Searles in 2004. He provides a full range of dental services, and has a handful of visiting specialists to round out the practice.
Dr. E. Robert Wardius does implant work. Purpura said he specializes in a procedure that takes only two visits. In the first one, the patient is measured for prosthesis. In the second, Wardius takes out the old teeth, puts in four implant screws, and installs the prosthesis.
Dr. D. Gray Vogelmann does holistic dentistry that includes replacing old silver fillings. Dr. Nolan Davis does general dentistry, and Dr. R. Alan Hinkle specializes in full-mouth reconstruction. Sharon DuPree is the dental hygienist.
Purpura, 50, spends a lot of time educating patients on how to have good dental health. He sees three main problems on St. John, starting with the fact that unlike many places, there is no fluoride in the water because most of his patients depend on cistern water. Fluoride helps prevent cavities and many communities routinely add it to their piped water. Purpura said pills are available to make up for the lack of fluoride in drinking water.
He said the cavities he finds in his St. John patients are often far more extensive than those he's found when he practiced in New York. Cavities are caused by bacteria, which also cause periodontal disease. Purpura said periodontal disease on his St. John patients is often exacerbated by two health issues that are major causes of bad health across the Caribbean – diabetes and high blood pressure.
"Get your teeth cleaned every three months if periodontal disease is a problem," he advised.
Mechanical dental problems round out the list. Purpura said these are problems that can come from grinding or clenching the teeth, the need for braces or as a result of periodontal disease.
He often sees patients who need a total rehabilitation of their mouth, the result of no dental care.
"People become loyal patients and have significant improvement," he said.
Purpura holds a degree from Columbia University School of Dentistry. A New York City native, he was an assistant clinical professor at the school before moving to St. John in 2004.
"I was tired of shoveling snow," he said.
Although he's reluctant to talk about his private life, he said he enjoys scuba diving and holds dive master credentials. He also plays bass guitar, keyboard and the ukulele, and has played occasionally with local bands.
As for the future, he said he'd like to see St. John Dental expand.
"I'd like to add more services," he said.
Visit www.stjohndentalusvi.com or call 693-8898.