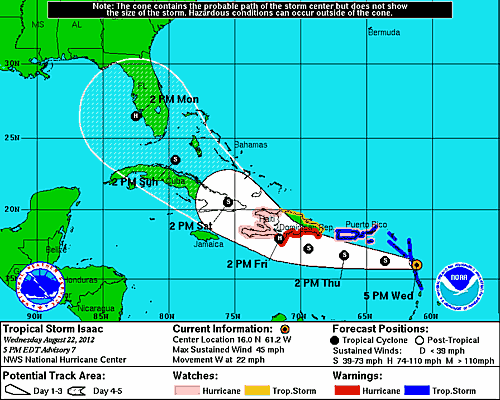 Thunder began booming and rain began pouring intermittently early Wednesday afternoon as Tropical Storm Isaac got closer to St. Croix, in particular, and to the rest of the territory. Conditions seemed to vary from island to island but occasional rain was common. By 5 p.m., skies were gray.
It will get worse as the night progresses, according to meteorologist Jose Alamo at the National Weather Service in San Juan. As the Weather Service meteorologists indicated repeatedly, St. Croix will get more than St. Thomas and St. John, but all three islands can expect windy and rainy conditions.
"The wind gusts will be mainly happening with the showers," Alamo said at 5:15 p.m. Wednesday.
Wind gusts will range from 35 to 40 mph on St. Croix, with the other two islands seeing gusts in the 30 to 35 mph range.
Rainfall will be heavy, with 4 to 6 inches falling across the territory between Wednesday afternoon and Friday. A flash flood watch was issued for the Virgin Islands.
The center of Isaac is expected to pass 80 miles south of St. Croix at around 7 a.m. Thursday, Alamo said. It will be 120 miles south of St. Thomas and 130 miles south of St. John around the same time.
The territory remains on a tropical storm warning and a hurricane watch. A hurricane watch means that hurricane force winds are possible.
As of the 5 p.m. update from the National Hurricane Center, Isaac's sustained winds were blowing at 45 mph.
The storm was centered at 16 degrees north latitude and 61.2 degrees west longitude, putting it 268 miles southeast of St. Croix.
The tropical storm force winds extend outward 80 miles from the center.
Isaac is moving west at 22 mph. The barometric pressure stands at 1004 millibars or 29.65 inches.
Further out in the Atlantic Ocean, Tropical Depression 10 got a number at the 11 a.m. update, but Alamo said that storm is expected to pass northeast of the northern Virgin Islands Sunday night into Monday.
Gov. John deJongh Jr. announced Wednesday that all government offices on St. Croix will close Thursday but those on St. Thomas and St. John will remain open. He said there was no need for a curfew.
As the afternoon progressed, updates from various agencies arrived. One changed the last ferry departure time from Red Hook, St. Thomas, to Cruz Bay, St. John, to 7:30 p.m. instead of 7 p.m. as initially indicated. The last ferry will leave St. John at 7 p.m. Ports are closed as of 8 p.m.
The V.I. Port Authority said it would issue updates on flights scheduled for Thursday but said flights on St. Croix were operating normally Wednesday. On St. Thomas, American Airlines cancelled its flight from Miami, which means there will be no morning return flight.
LIAT also canceled flights. Cape Air canceled flights as of 3:45 p.m. Wednesday and will have no flights Thursday. Seaborne Airlines canceled flights Wednesday. Delta Airlines, US. Airways, United Airlines have no flights until Saturday. Jet Blue and Spirit Airlines are operating normally.
In addition to the general population shelter at Herbert Grigg Home for the Aged on St. Croix, the Charles Harwood Medical Complex on St. Croix serves as a shelter for people needing medical assistance during an evacuation. Both will open at 7 p.m. Wednesday.
Special needs people are independent individuals with special medical support equipment needs or who receive care in the home from a family member, a press release indicated, suggesting that those individuals using the special needs shelter should bring medical equipment, such as oxygen tanks, if necessary and all medication and dietary supplies, as well as a caregiver.
The V.I. Housing Authority sent out advice to its residents that applies to all people across the territory. Remove all objects from porches and terraces, remain close to radios, stay indoors during the storm, and heed Government House advice and directives.
Make sure you have adequate food, medications, water, flashlights, radios, batteries and whatever else you need on hand.
Housing Authority residents are reminded that it prohibits the use of hazardous or flammable materials such as kerosene and candles. Housing Authority residents who sustain damages to personal belongings should provide documentation and/or before and after pictures. Call the management office to report damages and to ask for assistance if needed after the storm has passed.
The V.I. Waste Management Authority advised residents on St. Croix that the transfer station and scrap metal area will be closed Thursday. The facilities will reopen for business at 6 a.m. Friday. All administrative offices and facilities will be closed on Thursday and will reopen at 8 a.m. Friday.
On St. Thomas and St. John, the Bovoni landfill on St. Thomas, the Susannaberg Transfer Station on St. John, and all administrative offices and facilities will hold regular business hours Thursday.
All residents are asked to refrain from disposing of household waste at the bin sites until after the passage of Isaac to decrease any overflow that may occur.
There will be no house-to-house collection on St. Croix on Thursday and residents are asked to secure their waste receptacles until after the passage of the storm.
St. Thomas residents using the Bovoni landfill are asked to follow the directives of the staff at the site and to utilize the disposal area adjacent to the scale house.
Residents are advised that due to the inclement weather the sewer collection system may experience a large inflow of storm water that may cause overflows in certain areas.
Motorists are asked to use caution when traversing through flooded roadways during and after the storm, and to avoid potential and known areas of manhole overflows.
Residents are asked to avoid areas with standing water. Persons with impacted immune systems are especially reminded to avoid all flood areas.
Residents are asked to report any overflows to Waste Management at 713-1962 on St. Croix.