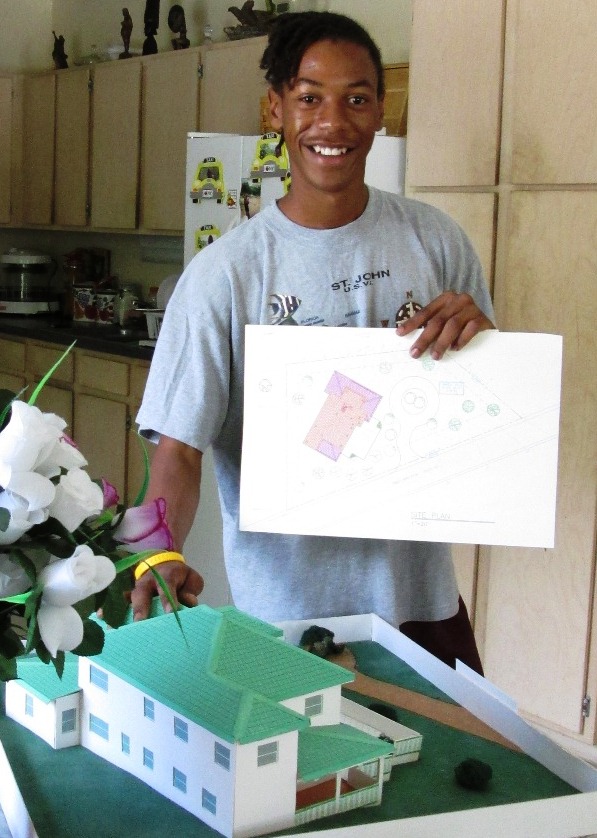 Loran Jackson, 17, is a Coral Bay Job Club success story. Before he even finished the summer program in August, he had a job lined up at Donkey Diner in Coral Bay. The restaurant will soon close for the slow months, but Jackson said he'll be back at his post after school and weekends chopping vegetables and making pizza dough when Donkey Diner reopens in the fall.
"He has the most incredible positive attitude," said Bonny Corbeil, who organized the Job Club.
The program was aimed at helping Coral Bay area youths get ready for the world of work.
Jackson has a great work ethic and is reliable, Corbeil said. "He really aspires to be a success in life."
The Ivanna Eudora Kean High School senior has set his sights high and plans a career as an architect.
"I like to see things come together," he said, explaining why the field appeals to him.
Jackson has the creativity and the aptitude, likes math and already has checked algebra, advanced algebra, geometry, pre-calculus, and trigonometry off the list of courses he needs to take.
"I liked geometry the best," he said.
He's took the initiative to meet with St. John architect Bill Willigerod and dabbled a bit in the field by taking an architecture class at Kean. As part of his class work, Jackson designed an attractive four-bedroom, three-bath villa with a pool.
His design took third place in the St. Thomas/St. John District Science, Technology, Education and Mathematics Fair in the real world models division.
"It took months to do it," he said.
Making the model involved using a computer program called AutoCAD that helps take some of the minute labor out of designing buildings. However, Jackson said, he had to cut out the walls with a razor.
Jackson named it Hard Labor Villa after the area of St. John where he grew up. He now lives with his grandmother, Martha Titre, in Calabash Boom, but his parents Justina and Lionel Jackson are close by in Hard Labor. He has seven siblings.
"He's wonderful," Justina Jackson said. "He does everything he's asked if I need help."
Loran Jackson attended Guy Benjamin School in Coral Bay before graduating from Julius E. Sprauve School.
While he hasn't decided where he'll attend college, his roots are in St. John.
"It's beautiful," he said.
He likes the island's friendly people and said that on St. John, people care about each other.
The commute to St. Thomas for school from this far-flung part of St. John is arduous. Jackson said he's up at 5 a.m. to make the 6 a.m. bus to Cruz Bay. He gets home on the 3 p.m. boat from Red Hook. He said that the Education Department now has a school bus meets the approximately 30 students who live along the Centerline Road to John's Folly route.
Jackson makes the most of the trip. He said he chats with visitors, who sometimes ask him if he likes the pink shirts of the Eudora Kean uniform.
"I say no," he said, laughing.
He said he likes giving tourists directions, and when he was younger he picked genips and sold them to visitors passing though Hard Labor.
"I taught them how to eat them – not the shell," he said.
And when he's not busy with school and job activities, he likes typical teen activities.
"I'm on Facebook or I draw," he said.
As for his advice to those younger than him, he said he'd tell them to stay in school.
"And be the best you can be," he said.